News
Obama's Impact on Elkhart Mixed
This article is from our older website archives. Some content may not be formatted or attributed properly. Please
Contact Us
if you feel it needs to be corrected. Thank you.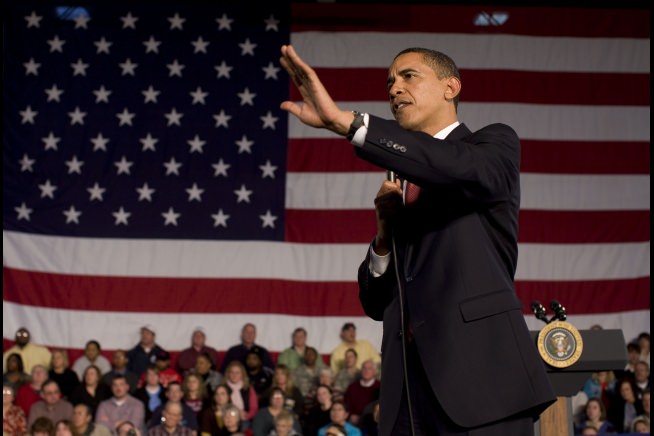 A lot has changed in seven years, but President Barack Obama might not want to bring a "Mission Accomplished" banner to Elkhart just yet.
Obama's visit Wednesday (June 1) will spotlight the region's sub-4 percent unemployment rate, comparing it with the 20 percent rate the city suffered when he took office in 2009.
Yet, as the president celebrates Elkhart's recovery, some of the city's business leaders are anxious about what they see as the same problem they faced eight years ago: a fragile economy dependent on fickle RV sales, the Indy Star reports.
Obama is slated to hold a town hall at the Lerner Theatre and deliver a speech at Concord High School, the same site he visited in January 2009 during his first trip as president.
Today, employment is so robust in Elkhart that some companies are struggling to hire because there are so few job candidates available. The numbers alone suggest Elkhart is among the greatest economic success stories in America.
Still, about 60 percent of Elkhart's jobs are tied to the RV industry. That's down from 70 percent in 2009. But it's still a heavy reliance on a single industry — a condition most people say hasn't changed since Obama's early visits to Elkhart.
"I think the nature of the beast is that Elkhart remains very cyclically sensitive to a business downturn," said Michael Hicks, a Ball State University economist who authored a report on manufacturing in Elkhart. "They make things people buy in good times, and when it's as high a share of the economy as it is, that's always going to be problematic."
Although federal policies are unlikely to insulate Elkhart from the turbulent RV industry, Hicks said Obama deserves credit for helping to keep Elkhart families afloat during the depths of the recession. Obama's 2009 stimulus package provided job training money for Elkhart and extended unemployment benefits for people who struggled to find work as the recession dragged on.
"It was really his idea that prevented the Elkhart economy from suffering significantly more, because it allowed households to have supplementary income during periods of unemployment," Hicks said.
Today, companies such as Jayco are barely building RVs fast enough to keep up with demand. Employment at Jayco has soared from 1,100 workers during the recession to 3,300.
"We hit our low point in early 2009, and it started rebounding," Jayco CEO Derald Bontrager said. "It's been a steady climb ever since then. We're nearing record numbers of shipments. It's bounced all the way back, plus some."
Bontrager, though, doesn't take the growth for granted.
"You sort of know (a downturn is) around the corner somewhere," he said. "I don't know if it's a year out or five years out, but certainly we're a large-ticket discretionary item that's one of the first to go when the economy starts to soften."
Elkhart, like Jayco and other manufacturers, is trying to prepare for that day. Mark Dobson, CEO of the Economic Development Corp. of Elkhart County, said the county is using a mix of tax incentives and tax-increment financing districts to lure new types of businesses into the area.
"You're always looking for the opportunity to (attract) businesses that are outside your core market," Dobson said.
Elkhart Mayor Tim Neese called diversification of the economy "job one." Neese, who took office earlier this year, has had initial meetings with a health care company that he hopes will decide to enter the market, he said.
Yet, Neese acknowledged, Elkhart's economic viability will be tied to the RV industry for many years to come.
"One has to always recognize and be appreciative of the RV industry," Neese said.
That's one reason why people in Republican-leaning Elkhart part ways with Obama. They remember Obama's August 2009 visit when he announced a $39.2 million federal grant for a company called Navistar that was supposed to create hundreds of jobs and build electric delivery trucks in Elkhart County. The jobs never arrived — from Navistar or other electric car-related companies that were touted at the time.
"The electric car endeavor proved not to be successful at all, and I think that's what a lot of people point to with regard to the federal government," Neese said. "That did not materialize to the extent that we had hoped, or to the degree it was promoted."
Obama sought to push Elkhart's economy into the future even as it was becoming more dependent on manufacturing, said Hicks, the Ball State economist.
"He clearly promised (stuff) that couldn't happen," Hicks said.
People in Elkhart haven't forgotten.
When manufactured housing company Patriot Homes went out of business in 2009, Sam Weidner Jr. lost the only company he had known — the one his father started in 1972. When he searched for what was next, he didn't find an electric car company or a technology company. He found Alpha Systems, an Elkhart company that makes products for RVs. Weidner is a shipping and warehouse manager for the company.
"If the RV industry hadn't come back like it did, I wouldn't have the opportunity I have now," Weidner said. "Do many of us feel like we're dependent on the RV industry around this area? Yes. Are we totally comfortable with that? No."