RV News
October RV Shipments Drop Nearly 44% From Last Year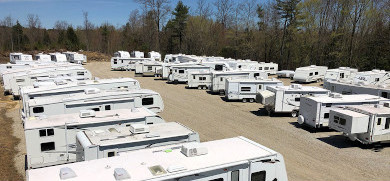 December '22 capped off an amazing three-year run for the industry.
Results for the RV Industry Association's October 2022 survey of manufacturers showed there was 32,652 RV units shipped during the month, a decrease of 43.7% compared to the 57,971 units shipped in October 2021. Through October, RV shipments are down 12.2% compared to the same point last year with 448,246 wholesale shipments.
"As we enter the holiday season, shipments of RVs continue to normalize from last year's record production," said RVIA President and CEO Craig Kirby. "The RV industry is still on track to deliver a top 5 year. And with our latest research showing over 15 million Americans planning to go RVing between Thanksgiving and New Year's, it's clear our industry is delivering an incredible way for friends and families to enjoy the holidays together in the outdoors."
Towable RVs, led by conventional travel trailers, ended the month down 48.3% against last October with 27,329 shipments. Motorhomes finished the month up 4.1% compared to the same month last year with 5,323 units.
Park Model RVs finished October up 43.2% compared to the same month last year, with 507 wholesale shipments. To date, park model RVs are up 16.5% for the year, with 3,947 shipments.