RV News
Outdoor Rec Contributes Over $1 Trillion to US Economy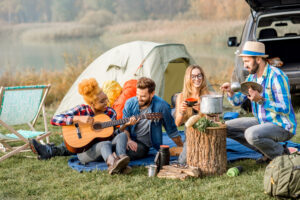 A new study released last Friday by the Bureau of Economic Analysis (BEA) revealed the powerful economic impact of outdoor recreation in 2022, including generating $1.1 trillion in economic output.
The U.S. Department of Commerce's data from the Outdoor Recreation Satellite Account showed 2022 had the largest economic impact in the history of the account. Other new figures reveal that outdoor recreation generates 2.2% of GDP, five million jobs and comprises 3.2% of U.S. employees. Across all metrics, the outdoor recreation economy's growth has outpaced that of the U.S. economy.
This is the sixth consecutive year that BEA has released national- and state-level data on the critical sector. The new release shows how the outdoor industry continues to grow and thrive, supporting jobs and local economies in communities across the country, bolstering the national economy and providing myriad benefits to the increasing number of Americans who seek time outside. The BEA data demonstrates how vitally important outdoor recreation has become and its potential to continue to grow, said the RV Industry Association (RVIA).
The new numbers show that RVing was the largest conventional activity for the nation at $35.5 billion in current-dollar value added and was the largest conventional activity in 22 states. The states with the largest contributions were Indiana ($5.9 billion), Texas ($3.6 billion) and California ($3.4 billion). Revised numbers in the new report also show that RVing was the largest conventional activity in 2021 as well.
"New RVers are younger and more diverse than ever before, and they are choosing RVing as a way to fulfill their desire to get outdoors, take part in all kinds of outdoor recreation and live an active outdoor lifestyle. RVs provide a basecamp for every form of recreation included in these new economic numbers, from boating and fishing to hiking, biking, climbing and camping," said Craig Kirby, RVIA president and CEO. "What these new numbers show is that outdoor recreation is not just good for people's physical and mental health, it is also a significant economic driver across the entire country."
Key highlights from 2022 data on the outdoor recreation economy:
Top activities:
RVing
Boating/Fishing
Motorcycling/ATVing
Hunting/Shooting/Trapping
Snow Activities
The outdoor recreation economy continues to outpace the growth of the national economy in every measure.
From 2021-22, the outdoor recreation economy grew at a rate of 4.8% compared to 1.9% for the U.S. economy.
From 2021-22, the outdoor recreation economy doubled its job growth compared to the U.S. economy.
Top states by growth:
Hawaii 44.4%
Alaska 29.5%
Washington, D.C. 28.6%
Wyoming 26.1%
Florida 20.8%
"If there's one thing to take away from [the] BEA presentation it's this: The state of the outdoor recreation economy is strong to the tune of over a trillion dollars in economic output. It shows that sustained investment in outdoor recreation and protection of our shared public lands and waters pays huge dividends for our local and national economies and quality of life," said Jessica Turner, president of the Outdoor Recreation Roundtable (ORR). "Our industry continues to provide benefits to communities across the country – big, small, urban and rural alike. To ensure that this success is sustainable and that our public lands and waters will continue to be accessible to all Americans for generations to come, we will continue to work together with leaders on the passage of America's Outdoor Recreation Act by the end of this year. We are thrilled to once again see the data reflect what we hear every day, that outdoor recreation is not a nice to have – but a necessity for healthy people, places and economies."
"This BEA report demonstrates the wide-ranging economic impact outdoor recreation has on state economies as well as the entire nation," said RV Dealers Association President Phil Ingrassia. "Outdoor recreation businesses including RV dealerships, RV parks and campgrounds, and other recreational activities can spur economic growth in both metropolitan and rural areas of the country."
"Camping is one of the best ways to enjoy the outdoors and it's often the catalyst for other outdoor recreation activities. As part of the larger outdoor recreation industry, outdoor hospitality makes an incredible economic impact on local communities and the US as a whole," said Paul Bambei, president and CEO of OHI. "Our camping consumer research shows a family of four spends an average of $275 per day in local communities on campsites, fuel, food and entertainment, and this latest BEA data reaffirms the economic value of outdoor hospitality as part of the larger outdoor recreation industry's impact."
View more detail and state breakdowns here.