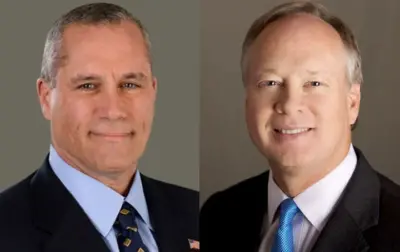 Lux (L) and Griggs
F&I and reinsurance company Portfolio has appointed Jeremy Lux as its new CEO, with former President and CEO Brent E. Griggs moving to chairman of the company's board of directors.
"It has been the highlight of my career to serve as Portfolio's president and chief executive officer and to work side-by-side with such dedicated associates, leaders and partners," Griggs said. "I feel especially fortunate to have the opportunity to continue contributing to the company's growth in my new role by helping to ensure a seamless transition of duties to our new CEO."
Griggs joined Portfolio in 2013 after serving as board chairman and CEO of Lyndon Property Insurance, Protective Life Corp.'s principal property and casualty insurance company. His 10-year leadership term was marked by rapid growth at Portfolio, which counts more than 5,000 auto, RV and powersports dealers among its clientele and has established itself as a top 10 F&I provider and administrator and the industry leader in reinsurance expertise, performance and reporting.
Before joining AndersonAutos in 2020, Lux served as market president for AutoNation from 2014 to 2019 after a nearly 24-year tenure with Miller Automotive Group and Group 1 Automotive, where he advanced from general sales manager at Los Angeles's Miller Nissan to chief administrative officer and corporate finance director for Miller Automotive and general manager and market director for Group 1.
Read the full story from F&I and Showroom magazine here.