News
PPP was a 'Godsend' to This Colorado RV Maker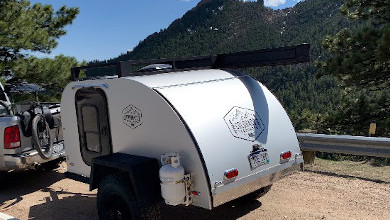 A unit made by Colorado Teardrops
Despite its many flaws, the Paycheck Protection Program pumped billions of dollars into the Colorado economy, saving hundreds of thousands of jobs the pandemic had jeopardized. With the outbreak accelerating again, more help may be needed, some analysts say.
"The money was a godsend," said Dean Wiltshire, owner of Colorado Teardrops, a Boulder trailer manufacturer. "With the PPP money we were funded, we could pay rent, utilities and meet our payroll."
The maker of small trailers restarted a manufacturing line and brought back 16 workers and is now at 20 employees as demand for recreational vehicles skyrockets. When a key supplier suffered delays, the company's PPP loan, which totaled $160,000, allowed production to keep moving forward until the needed parts arrived.
Wiltshire is a big fan of the PPP, but he also acknowledges receiving less than requested and having to wait longer than anticipated after his initial applications got held up.
Click here to read the full story from Aldo Svaldi of the Denver Post.
Among the criticisms of the program are that it initially favored bigger businesses over smaller ones, wasn't as accessible to minority-owned companies, funneled billions in tax dollars to tax-exempt organizations, and proffered loans to industries and agencies – such as oil and gas companies and Planned Parenthood – that offered grist for activists on both sides of the political aisle to complain about.