News
Preview: Grand Design: One Year Later
This article is from our older website archives. Some content may not be formatted or attributed properly. Please
Contact Us
if you feel it needs to be corrected. Thank you.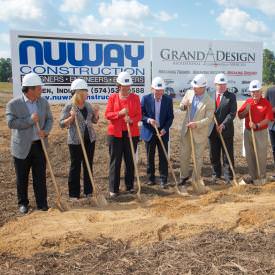 A glaring number jumped off the pages of the third quarter report of Winnebago Industries, which came out in mid-June. The report showed that, as of May 27, Winnebago's backlog of travel trailers and fifth wheel orders totaled 8,657 units. The bulk of that nearly $270 million tally represented orders placed by dealers of Grand Design RV, a wholly owned Winnebago subsidiary.
To read the rest of the October 2017 issue of RV PRO, click here.
"At Grand Design's current production rate, dealer lead times were becoming lengthy. That was unacceptable and we needed to do a better job of timely supplying our dealers with their orders," Grand Design President and CEO Don Clark says in retrospect.
In fact, by late May, Clark and his team had already prepared a comprehensive expansion proposal to head off future dealer backlog frustrations. The solution is a more than $10 million expansion project that will provide two new, stateof-the-art, 110,000-square-foot manufacturing facilities on a 52-acre site immediately south of Grand Design's Middlebury, Ind., campus.
One of the new plants will provide much-needed capacity for Grand Design's most popular products. The other will house a new product line that Grand Design dealers have urged the RV maker to build, according to Clark.
"We will be entering a major market segment and will do it in typical Grand Design style," he says. "Where everybody else is going left, we're going right. It will be distinctive. We want to excite the dealers and retail customers when we unveil the product."
Clark is keeping details under wraps for now, but he believes it could help Grand Design/ Winnebago as it tries to decrease the chasm between it and towable leaders Thor Industries and
Forest River.
Grand Design also will build a multi-million-dollar addition to its lamination operations "to keep up with the incredible growing demand for our products," Clark says.
The new facilities will bring Grand Design space under roof to more than 1 million square feet, while adding between 350 and 400 workers, according to Clark's estimates. In all, the expansion will provide much needed production space within the Grand Design business, and will have a positive impact on all Grand Design brands.
Meanwhile, as a service to its end users, Grand Design is building a small campground where customers can stay while repairs are being made to their coaches. The campground, which will include full-service hookups for eight campsites, will be located immediately north of the company's customer service center. The opening is planned for this month.
Growing Bigger & Bigger
Grand Design's need for additional space isn't surprising when considering how quickly the RV maker has grown since launching operations in January 2013.
Today, Grand Design's Reflection is currently ranked among the top three fifth wheel brands and has become a leading midpriced fifth wheel in the market, based upon figures from market data firm Statistical Surveys. Separately, the Solitude has grown to No. 6 in fifth wheels, and sales this year are up by 34 percent.
Meanwhile, Momentum is vying for the No. 1 toy hauler brand. It's up more than 36 percent this year. At the same time, the lightweight Imagine travel trailer – Grand Design's newest travel trailer line – in just two years has catapulted to the 16th ranked retail selling travel trailer, and its market share is up more than 115 percent, according to Stat Surveys.
Even as Grand Design broke ground on its two new buildings during a special ceremony on Aug. 23, the RV manufacturer is already thinking strategically about its future needs. Clark says Grand Design has made available 32 additional acres, contiguous to Grand Design's south complex, for yet two more potential additional future factories.
Clark's recently announced expansion plans were enthusiastically welcomed by the Winnebago board of directors as Grand Design continues to steadily expand the company's footprint in the towable market.
Grand Design's growth has come as Winnebago motorhome sales have struggled a bit. Winnebago's motorized sales slumped about 2 percent over the past nine months, costing it market share and about a 20 percent decline in EBITDA (earnings before interest, taxes, depreciation and amortization), according to the RV maker's third quarter report. But the towables segment, primarily consisting of Grand Design, has surged, bringing nine-month Winnebago sales totals to nearly $1.1 billion – up 52 percent year-over-year. EBITDA for towables was a healthy $34.7 million.
According to the third quarter report, Grand Design's share of the towable sales was $196.9 million in the quarter. Winnebago's total net income for the nine months totaled $46.4 million, compared to $32.3 million a year earlier.
Before the Grand Design acquisition, more than 90 percent of the Winnebago revenues were from the motorized segment, but now revenues are almost evenly split between towables and motorized. And for third quarter, Winnebago reported the highest gross profit margin in nearly a decade.
Wall Street has responded favorably to the new direction of Winnebago. One of Winnebago's cheerleaders is Craig R. Kennison, senior research analyst with Robert W. Baird & Co., who wrote in part in a letter to investors following release of the third quarter results, "Big picture, we are bullish on the leadership-driven transformation story at Winnebago."
In fact, over the past year, Winnebago shares have been up by as much as 56 percent.
For his part, Clark says he is a strong believer in Winnebago's prospects moving forward. He singles out for praise Winnebago Towables Vice President and GM Scott Degnan and Winnebago Motorized Vice President Brian Hazelton for their efforts to rejuvenate their respective divisions.
'Perfect Template' for New Facilities
Clark says Grand Design has what he calls "a perfect template of what we think is an ideal plant layout. It is designed with versatility in mind. We can plug any products into it."
What makes a new factory state-of-the-art?
Clark says the buildings will feature the most advanced pneumatic scaffolding in the industry. Follow that up with "a great ventilation system for employee comfort, because they work hard." Add in high ceilings and LED lighting throughout. At the pre-delivery inspection and final finish areas, intensified lighting will hang down from the conventional lighting and bathe the coach in light so as to aid inspections.
Each plant will have its own PDI department, whose head will report directly to Jerry McCarthy, Grand Design's vice president of service operations.
"Each individual coach we build will undergo a 280-point inspection process," Clark says. "A lot of those are redundancies; they've already been tested. That's OK; we're checking the checker. Last year alone … we spent over $2.3 million on this extra process."
This extra effort is part of what has helped set Grand Design apart from the rest of the industry since its inception, according to Clark.
"What we hear from our dealers is that our units come in cleaner and they have less issues with a Grand Design product than they do with other products on their lot," he says. Grand Design/ Winnebago considered the tight labor market in northern Indiana before opting for expansion in Middlebury.
Clark notes that, while other manufacturers struggle to attract workers amidst the local area's low unemployment rate, Grand Design continues to have a waiting list of employees ready and willing to work for the company.
The two new buildings, as are all the Grand Design facilities, will be leased (from Three Oaks Corp.) and their activation will be staggered. Clark adds, "The master plan is to ultimately build out the entire Middlebury campus."
Acquisition Era
In answer to a question about acquisitions during his June 17 conference call, Winnebago CEO Michael Happe acknowledged he needed to choose his words wisely.
"With the Grand Design acquisition, we were comfortable with making an RV play to give us a fighting chance on the towable segment," he said.
Even with the Grand Design purchase, Winnebago still owns just a 5 percent share of the retail towable market.
Happe said there are few private manufacturers left, and he wouldn't tip his hand which ones Winnebago would be interested in buying. Whatever Winnebago would buy would have to fit into the company's plan to become a full-line RV manufacturer, he said.
However, Grand Design's success has whetted the Winnebago appetite to go forward on its business plan to diversify both inside and outside of the RV industry. Happe reported during the conference call that Winnebago continues to explore other acquisitions in the outdoor lifestyle sector. He was not more specific.
Meanwhile, Winnebago has buildings in Oregon that are "not as full or busy as they should be and acres of grass" that could be utilized by other divisions, so moving some Grand Design production out there is a possibility, he suggested.
Adds Clark, "If and when it makes sense to move out West, we know how to do it."
Integrating Grand Design & Winnebago
The integration of Grand Design RV into the Winnebago family has been a smooth one, Clark says, as the foundation was laid well before the acquisition announcement.
"We (Clark and fellow Grand Design founders Ron and Bill Fenech) made an obligation to Winnebago during the due diligence process and we intend to keep all promises, and not just meet the expectations that were set, but exceed expectations," he says. "I feel the Grand Design team has done that."
Clark adds, "I'm also excited over what we can learn from Winnebago and have an inside seat to see what Winnebago does with the Winnebago-branded products. I am extremely excited for the prospects of the entire Winnebago corporation and very excited to see some of the products being developed and feel optimistic about Winnebago as a whole.
"Winnebago has been very respectful in allowing Grand Design to be an independent business unit within the Winnebago corporate umbrella," Clark adds. "Mike Happe has been very collaborative offering assistance where we need it. He has brought on some of the smartest people I've met in this industry into his ELT – Executive Leadership Team. It's been fun getting to know these talented individuals and learning new things from them. Hopefully, they've learned some insights from us.
"We picked Winnebago because we shared a lot of the same business philosophies and ethics and wanted this to be a venture where 1 and 1 equal more than 2," he says.
So, what does the future hold for Grand Design?
"I was once told by a friend that a company is either 'green and growing, or ripe and rotting'. Grand Design is green and will continue growing," Clark says. "Grand Design will keep true to the commitments we made when starting our company, and will continue growing responsibly in the major towable RV segments where our dealers will see the greatest opportunity.
"We are often asked when or if we will get into the motorized market, and my answer is that our immediate focus is on additional towable growth," Clark says. "After that … who knows!"