News
Preview: Torklift 'Builds People'
This article is from our older website archives. Some content may not be formatted or attributed properly. Please
Contact Us
if you feel it needs to be corrected. Thank you.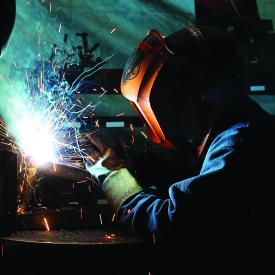 SUMNER, Wash. – On a recent winter day, worker stations at Torklift's 52,000-square-foot facility buzzed with activity, a cacophonous symphony of laser-cut metal, metal, and the abrasive sanding of vehicle parts to ensure a final polish.
It was the sweet sound of success for Torklift, a manufacturer of tie-downs, turnbuckles, towing products and suspension products for the RV industry, which has experienced significant growth in recent years, including a 25 percent increase in year-over-year growth last year.
Still, it's not the equipment itself that accounts for the company's success – it's the employees operating that machinery, according to Candice Kay, senior vice president of sales and marketing for the company. Torklift, based in Sumner, Wash., a city of about 10,000 people located about 45 minutes south of Seattle, has managed to attract a diverse workforce and to invest in those employees, cultivating its next generation of company leadership in-house, she adds.
"We don't build parts – we build people," says Jack Kay, president of Torklift and son to company founder Jon Kay.
In terms of workplace community, Jack Kay has what he calls the "raindrop theory." Simply put, the idea is that, alone, a drop of water is not much.
"But if you could get thousands," he says, "you can unite it, and put it in a streambed, move it to a river … move it to cities, and you can power things. You can have tremendous energy and tremendous force. It's the power of unity."
This is largely due to Candice Kay (Jack's wife), who oversees new hires.
When eying a potential employee, she says she looks for one key element: Fire.
"When I first started out with Torklift, I didn't have all the necessary tools or formal training," she says, laughing. She jokes about people pulling their hair out as her skills were developed.
People she interviews, she says, may not have a necessary skillset, "but they really want to try. They're really ambitious. They have a fire – those are the ones that just surprise you."
Before joining Torklift as marketing director, Candice Kay was a journalist, covering the crime and accident beat at a central Washington newspaper for five years.
"I got to see an interesting side of people," she says, adding that it opened her eyes to how diverse people are, and also not to pre-judge them.
That lesson paid big dividends for Torklift when it comes to some of the hires she has made. For example, she saw a spark in 19-year-old Hannah Orr, Torklift's graphic designer (or "wizard", according to her email signature). Despite a nontraditional resume, Candice Kay knew Orr would be a happy addition to the Torklift family.
"I was kind of between homes, in a little bit of a tough spot, and I knew someone that worked here," Orr says about the time before she met Candice Kay. Her resume, which only showed volunteer work, was sent in, and she soon joined Torklift as an intern. She was made part-time after nine days.
"She saw some character in me, something she could work with. … I guess I was very charismatic," Orr says, laughing. Candice Kay says she sees that in others.
One welder, Jesse Ramirez, has faded tattoos running along the curves of his face. When Candice Kay sat down with him, she knew he was "going to make a positive impact on others."
In December, he told her about a hat and glove drive he'd like to do for homeless children in Seattle.
"He said it reminded him of when he was younger, and he wanted to step into their lives and do something to help them," she says. Ramirez's fundraiser was a success, and he was able to disperse hiking kits in addition. "The side effect of investing in people is that they go out to invest in others."
For photos of the Torklift facility and the rest of the story, read the digital version of RV PRO's February 2018 issue.