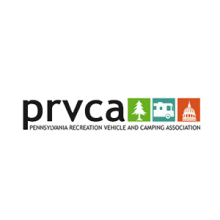 The Pennsylvania Recreation Vehicle and Camping Association (PRVCA) presented three awards during its annual meeting held virtually on Nov. 16.
RV Value Mart earned the Gary Bunzer Education Award for attending the most PRVCA continuing education sessions throughout the year. The company sent 37 employees to 100 classes from September 2021 to September 2022. Jonathan Martin, RV Value Mart service director, accepted the award from James Lubomski, education director, on behalf of his company.
"PRVCA has been a great resource for us for our training," Martin said. "We appreciate everything you have contributed."
Tim Umstead, Trumark Dealer Services, received the 2022 Rebecca Lenington Volunteer of the Year Award for his dedication to the association.
"You have been active in the association for many years," said PRVCA Executive Director Heather Leach as she presented the award. "When you are involved with an organization you are involved 100% and that's certainly true here at PRVCA. Whether your goal is to move the organization forward or to make sure that we have the technology that we need, you have truly been an asset to the association."
"Over the many years of being committees and on the board of directors, it's certainly been a rewarding experience for me," Umstead said. "Getting to know everyone not just professionally, but personally, has been amazing."
Umstead also received the Chairman's Award for completing his second two-year term as PRVCA chairman.
"Working with this board of directors has been just phenomenal," he said. "Their commitment to the mission of this association has made this just an easy job."
Peers in the RV industry nominate the volunteers for the award, which is named for retired long-time PRVCA Executive Vice President Rebecca Lenington.
The Education Award was named the Gary Bunzer Education Award for industry consultant, speaker and trainer Gary Bunzer, who passed away in 2020.
A video of the entire meeting is available below.