RV News
PRVCA Reflects Back on 54th Annual Hershey Show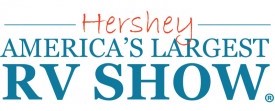 Beautiful weather brought out the crowds for the 54th America's Largest RV Show, organizers said. A total of 45,535 people attended the multi-day show, presented by the Pennsylvania Recreation Vehicle and Camping Association (PRVCA).
"While attendance was down a bit from last year, it was still strong despite high interest rates and a tough economy," said Heather Leach, PRVCA executive director. "Beautiful weather for most of the week brought people out to shop for their next RV, accessories and campground destinations. This show is always a great place for consumers to check out the newest products, floorplans and designs and partake in our educational seminars."
Thirty-five manufacturers showcased more than 1,500 RVs during the five-day public event with dealer and manufacturer representatives on hand to answer consumers' questions and help them secure a great deal.
Sales reportedly were also good for the show's 179 vendors with everything from RV parts and accessories, cleaning products and personal care items to insurance and financial products.
News year's event is already set: It will be Sept. 11-15 at the GIANT Centers in Hershey, Pennsylvania.