News
Q&A with Arrow Distributing's Andrea and Andy Mullin
This article is from our older website archives. Some content may not be formatted or attributed properly. Please
Contact Us
if you feel it needs to be corrected. Thank you.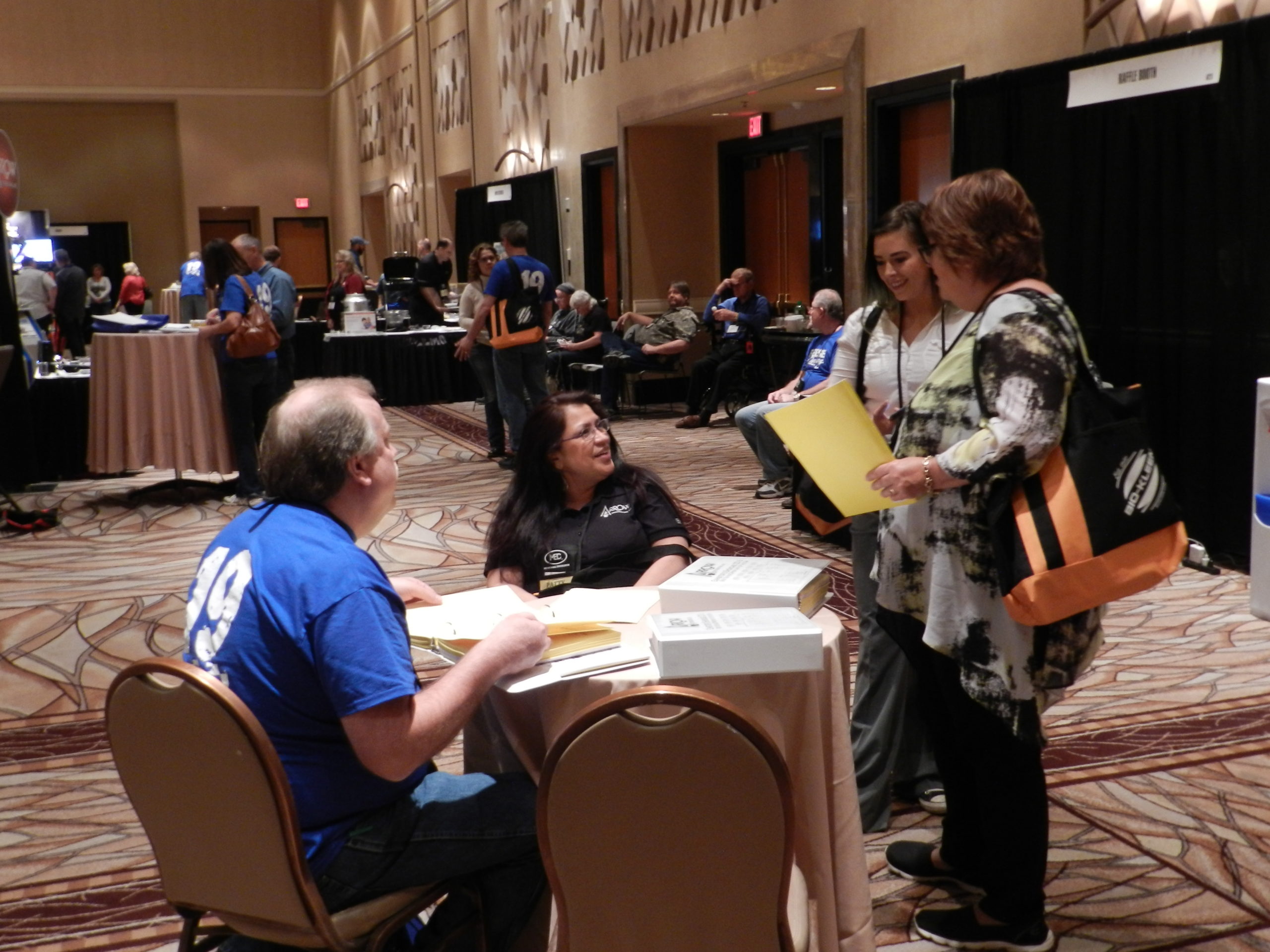 Dealers and vendors at the Arrow Distributing Exhibitor's Showcase spent much of the show's final day at work on the show floor.
As attendees wound down at the cocktail party that concluded the two-day event Thursday night, RV PRO sat down with Andrea and Andy Mullin, the husband-wife duo that oversees the company's operations, to reflect on the previous two days.
To view a slideshow from the closing day at the Showcase, see below. 
RV PRO: What are your first-takes on this year's Showcase?
Andrea Mullin: We had more dealers attend this year than any other show.
Andy Mullin: We had more dealers here than usual, but we'll also get a lot of orders from our regular-attending dealers who did not attend, but will still submit orders. It is a good show, but those will make it that much better.
Andrea: This show was the smoothest ever. Normally, you have little issues like you do at every show, but this one ran smoothly.
RVP: Why do you think that's the case?
Andy: We learn from our mistakes from previous years and correct them going forward, really.
I think the excitement of the show was greater this year than in years past, and the attitude of the dealer-base was very upbeat, and same for the vendors.
For orders – though we haven't tallied anything up – it looks like it's going to be a record show.
RVP: You mentioned learning from mistakes. What was different this year from previous shows?
Andy: We did the Bonus Buy program for the first time this year, and that was an additional incentive for both dealers and vendors to attend. …
This is the second consecutive year we've done the VIP limo, and the turnout for that was great. It's a great welcome for dealers because they're greeted right when they arrive at the airport; they get a beverage, snack and a limo ride to the hotel, which they'll also get back (to the airport) tomorrow.
RVP: Are there changes you'll make for next year?
Andy: There are a lot background things, but I think we're going to get more aggressive with the Bonus Buy program. A lot of dealers took advantage of it, dealers got value out of it, and I think we can build upon what we started for future shows."
RVP:  Distribution in the RV market has seen a lot of changes in the past few years, how does Arrow respond to market changes?
Andrea: We do not let the stress of everything going on in the industry affect us. We keep moving forward, and we don't let it bother us.
RVP: So, you continue to do your job despite what's going on around you?
Andy: We're aware of what's going on in the industry, and aware of the trends and our competition, but our main focus is to take care of our dealers. If we see an area of opportunity and want to dive into it, we do it. We are growing where it makes sense and where it's smart and where we're still supporting a dealer base while making a logical expansion.
RVP: Some attendees described this show as having a relaxed atmosphere. As show organizers, how do you balance the business aspect of a trade show with entertainment?
Andy: We really enjoy what we do, and our employees enjoy what they do, and when you do that, they naturally forge relationships. That's one reason they come back year after year to see their friends, whether they're vendors, Arrow employees or dealers. … You look around at the people that are here and they seem to truly enjoy being here.
RVP: What does the upcoming year look like for Arrow Distributing?
Andy: We're going to stock up on inventory. We've been doing that all of last year, and that's our goal: to have inventory to take care of dealers.