RV News
Quartzsite Show Crowd Reaches 145,000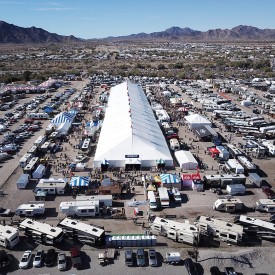 The 37th Annual Quartzsite Sports, Vacation & RV Show concluded Jan. 26 and broke records with an estimated crowd of about 145,000 in attendance.
Progressive RV Insurance, the "Naming Sponsor" for the show, had people lining up at its Virtual Reality canopy area where participants could test their driving skills in a virtual boat race and compare their final times and scores against the others that gave it a try.
Platinum sponsor Cummins Diesel used the show to introduce its new line of portable generators.
Dometic managed two separate locations and a service bay in support of customer warrantee and repair needs.
Show officials said that "Silver Sponsors", including Family RV/FMCA , High Desert Pure, Redlands Truck & RV Service, RV Country and Plasticover, were all very pleased with the results of their participation in the sponsorship program in 2020 and report that they thought the crowds were one of the largest in recent memory.
Ford Motor Co. took all of the remaining exhibit space on the Midway Exhibit Area displaying its lineup of diesel trucks.
The 38th Annual Quartzsite Sports, Vacation & RV Show is scheduled for Jan. 16-24, 2021.