News
Recently Certified, Recertified Techs Announced
This article is from our older website archives. Some content may not be formatted or attributed properly. Please
Contact Us
if you feel it needs to be corrected. Thank you.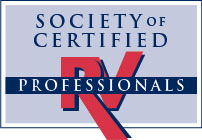 The Society of Certified RV Professionals has recognized 80 individuals from 48 participating dealers and manufacturers who earned a certification, or renewed their credential, from March to May through the Mike Molino RV Learning Center or the RV Dealers Association and RV Industry Association RV Service Technician Certification Program.
Participation in the recognition program allows the society to publicize individuals' certification achievements on the national level. Those participating in the recognition program are a subgroup of the 136 individuals from 89 dealerships who recertified or earned certification during that time frame.
"On behalf of the entire RV Industry, we congratulate these professionals and their dealerships. These accomplishments are proof of their outstanding commitment to customer service and satisfaction," said RVDA President Phil Ingrassia. "Not only do they elevate our industry, but on an individual level, each joins an elite group of certified personnel who have successfully met high professional standards."
Forty-five technicians were recertified at either the Certified or Master Certified Technician level. Twenty of those recertified are from dealerships participating in the recognition program. They are: Certified Master Technicians Donald Curtis, Kenneth Voshall, David Wyatt and Certified Technicians James Baker, Jeff Casey, Mark Formanek, Mark Fraser, Zane Goodman, Terry Johnson, Edgar Juarez, James King, Michael Krantz, Daniel LaBree, James Lloyd, Daniel Majors, James McDonald, John Nyikos, Stephen Shackelford, Keith Wysong, and Ronald Younts.
Five individuals newly certified as Master Technicians are participating in the recognition program. They are Erich Kress, Paul Hoefing, Christopher McClenin, Cameron Sandstoe, and Stephen Shope. The forty-four newly Certified Technicians are Rick Barlow, Alexander Bennett, Michael Boellaard, David Boeser, Dominick Boncore, Michael Burke, Andrew Carpino, Colin Cavoto, Austin Colson, Russell Davis, Mark Egbert, Raymond Ellis, Cody Felch, Robert Ferry, James Fuller, Terry George, Dylan Hough, Cody Kneupper, Shayne Krutz, Kristopher Lais, Duston Lucas, Chris Morley, Frank Moulton, Joey Myers, Paul Newby, Jaxson Odell, Nathan O'Keefe, Richard Palmer, Adam Price, James Rothstein, Paul Runyard, Adam Sherwood, Joshua Skiles, Carl Small, Kyle Smith, Kennath Stenberg, Joseph Stone, Dean Taggart, Spencer Tillery, Joshua Torres, Mark Williams, Collin Woessner, Jeffrey Wolff, and Tyson Zaugg.
Eleven fixed operations professionals were certified through the Mike Molino RV Learning Center from eight dealerships, all of which are participating in the recognition program. Those in the recognition program are: Craig A. Toft, Kevin Adamczak, Ibrahim M. Hassan, Lauran Hollifield, Jimmy Humbert, Jodi Reese, Anthony Santaniello, Robert Shroyer, Gary Weber, Stephanie Peot, and Trish Warren.
A special event is once again planned at 5:15 p.m. on Nov. 11 at the RV Dealers Convention/Expo. The event is designed to recognize certified professionals and will include a presentation from George Dans, sponsored by Protective Asset Protection. All registered attendees that support professional certification are welcome to attend.
For more information, visit www.rvtechnician.com.