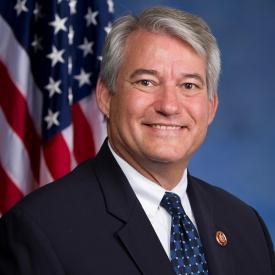 Rep. Dennis A. Ross (FL-R-15), co-chair of the House RV Caucus, will be honored with RVIA's National Legislative Award on Monday, Jan. 15.
This annual award was first established in 1978 to recognize an individual who has distinguished him or herself in legislative matters pertaining to the RV industry. As a lifelong RVer, Ross' deep understanding and passion for the RV industry has not gone unnoticed and the RV Industry will recognize him for championing numerous RV-related endeavors on Capitol Hill and beyond at RVIA's Leadership Conference.
Most recently, Ross was part of a meeting the with RVIA and other outdoor leaders at the Department of the Interior in July that lead to a "Made in America" Recreation Advisory Committee. The committee will advise the Secretary of the Interior on public-private partnerships across all public lands, with the goal of expanding access to and improving infrastructure on public lands and waterways. This will offer new opportunities for experienced and committed supporters of the Great Outdoors to collaborate with the secretary and other Interior officials on a wide range of issues. The duties of the committee are strictly advisory and will consist of, but not be limited to, providing recommendations including policies and programs that:
Expand and improve visitor infrastructure developed through public-private partnerships;
Implement sustainable operations embracing fair, efficient and convenient fee collection and strategic use of the collected fees;
Improve interpretation using technology;
Create better tools and/or opportunities for Americans to discover their lands and waters.
"As a kid raised in the RV industry traveling the country and going through all of the National Parks, I am absolutely delighted that Secretary (Ryan) Zinke has decided to pursue public-private partnerships with our National Parks," said Ross. "More than 9 million Americans own RVs and a quarter of a million people are employed in the industry. My home state of Florida is rich with National Parks and provides nearly $1 billion in economic output through the RV industry, with Tampa hosting the largest RV consumer show in North America and the largest single site RV dealership in America. Yet, our National Parks haven't kept pace.
"Now we have an opportunity with our conservation friends, outdoor recreation friends, and RV industry friends to partner together to make sure we modernize our parks, where experienced concessionaires could finance and upgrade campsites on federal lands, while balancing vital conservation needs and keeping the iconic National Park Service look and feel. Park partnerships are a win-win-win solution for the American people, the U.S. economy, and federal land agencies. These partnerships would not only boost federal revenue and address backlogged maintenance, but better respond to the desires of Millennial, urban and traveling Americans and today's RVers.
"As our National Parks transition into their second century, I look forward to working with my colleagues in Congress, fellow RV Caucus Members and Secretary Zinke to determine the best way to modernize and improve our National Parks to allow for their preservation, conservation and enjoyment for generations to come."
Rep. Ross has been a been a champion of the RV industry as a House RV Caucus co-chair. He works to raise awareness and promotes education about the RV industry on Capitol Hill, provides support on critical industry legislative and regulatory issues and works with RV industry and other outdoor recreation leaders to attend informative briefings on the RV industry.