RV News
RV Demand Keeps Climbing and So Does Demand for Dealership Employees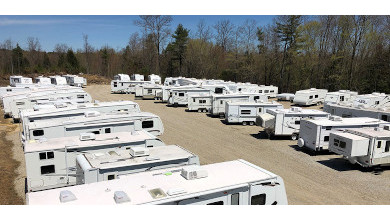 Road trips and weekend getaways in RVs boomed during the pandemic and one Metro Detroit-based dealership says demand for the homes-on-wheels shows no sign of slowing, even as gas prices reach all-time highs.
Needing to staff up for the busiest season of the year, General RV is conducting a two-day hiring event that began Tuesday. Nationwide, the company needs to fill 300 positions, including jobs at four Michigan locations, said Loren Baidas, president of General RV Center.
To woo prospective employees, the company is offering sign-on bonuses of up to $1,000 and $500 bonuses for those who refer someone who takes a job with General RV. Its hiring event continues from 10 a.m. – 6 p.m. Wednesday at its locations in Wixom, Clarkston, Brownstown Township and Mount Clemens.
"Since the pandemic, we've struggled to fill all of our positions," he said. "There's a need for a couple things. One is we're growing as a company. The dealership is growing. There's been significant, more interest in RVs, RV sales since the pandemic. We're seeing a nice response from that."
According to a survey released by the RV Industry Association this past fall, 72 million Americans plan to take a trip in an RV this year, up from 61 million the year before.
Stephanie Waldron of Edmore, near Mount Pleasant, visited General RV's Wixom lot Tuesday morning, buying an RV to replace a smaller camper her family parks at their seasonal lot in Barryton, about 30 miles north of their home. The family's new camper: a 2013 Coachmen Freedom Express Travel Coach. Waldron paid a little more than $20,000 for the 34-foot-long travel trailer.
"We needed something bigger for the kids," she said. "We ended up buying one with a bunk house."
Click here to read the full story from the New York-based Finger Lakes Times, an affiliate of the Community Media Group.