RV News
RV Industry Attends Presidential Briefing at White House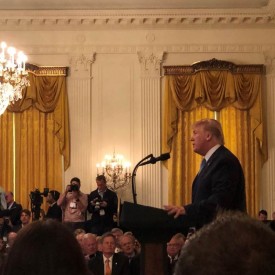 On Monday, the RV Industry Association, RV Dealers Association and members of the Outdoor Recreation Roundtable (ORR) were invited to the White House for a special briefing from President Donald Trump and key Cabinet members on striking a balance between policies that advance environmental stewardship and promote economic growth.
During his remarks, President Trump highlighted the need to expand recreational opportunities on public lands and waters while promoting conservation and stewardship. Trump also touched on a number of issues that affect the outdoor recreation industry, including his commitment to increasing outdoor recreation access, improving forest fire management, protecting America's land, air, and waters and the signing of the largest public lands legislation in a decade.
"This year, I signed the largest public lands package in a decade, designating 1.3 million acres – that's a lot of land – of new wilderness and expanding recreational access," said Trump. "My administration is strongly promoting bipartisan solutions for conservation. And we're really getting along very well with the Democrats on that one. We're getting things done."
Attending on the behalf of the RV industry were RVIA Interim President Craig Kirby and Director of Government Affairs Chris Bornemann.
"It is encouraging to hear President Trump talk about the need to expand recreational opportunities while protecting the great outdoors," said Kirby. "The President's priorities on clean air, water and keeping the outdoors safe and enjoyable for Americans – and the millions of American RVers – means our message has been getting through at the highest levels."
Conservation of America's public lands and waters is integral to the environment and the $114 billion RV economy. RVIA supports these conservation efforts and looks forward to continuing to work with the Administration and Congress on expanding outdoor recreation access while maintaining the beauty and safety of America's public lands and waters.
In addition to having the honor of attending the presidential briefing, Kirby and Bornemann were able to discuss RV industry priorities with Secretary of the Interior David Bernhardt and Secretary of Transportation Elaine Chao. The federal affairs team has already been contacted by Chao's office and looks forward to a productive meeting in the coming weeks. The team is also working directly with Bernhardt and his leadership staff at the Department of the Interior (DOI) to advance campground modernization and expansion projects on DOI lands.
Also in attendance were Secretary of Commerce Wilbur Ross, Secretary of Health and Human Services Alex Azar, Secretary of Treasury Steven Mnuchin, Environmental Protection Agency Administrator Andrew Wheeler, Chair of the Council of Environmental Quality Mary Neumayr and Advisor to the President Ivanka Trump, as well as Senators John Barrasso (R-Wyo.), Steve Daines (R-Mt.), Kevin Cramer (R-N.D.) and Rep. Bruce Westerman (R-Ark.-4).