RV News
RV Intelligence Releases Hitch PinLeash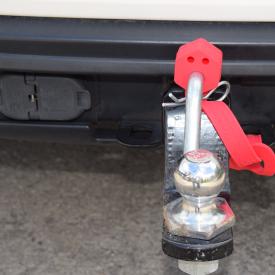 RV Intelligence has begun selling The Hitch PinLeash at select RV accessory retailers. The Hitch PinLeash, RV Intelligence's fourth product, is a strap designed to mount easily in hitching environments, providing security against loss of five-eighths- and half-inch hitch pins and clips, as well as visual confirmation that the pin is in place and secure.
"I've lost my fair share of hitch pins so out of my own personal necessity, The Hitch PinLeash was born," said Herb Gingold, co-founder of RV Intelligence. "Now we hope other campers can benefit from The Hitch PinLeash, and never have to be in a situation where they lose their hitch pin or clip. And, like all of our products, the PinLeash was designed to be affordable, easy to install and help simplify the process of RVing."
The Hitch PinLeash includes holes to safely hold both parts of the pin. The design loops around the hitch securely holding everything in place. The accessory holes are designed to be used with optional three-eighths- to one-inch magnets, which are available at RVIQProducts.com and provide added security.
RV Intelligence products can be found at RV products and accessories retailers including:
Camping Connection
Eagles Pride RV Sales
General RV
Giant Recreation World/RV
Lazydays