News
RV Living in a Volkswagen-Size Space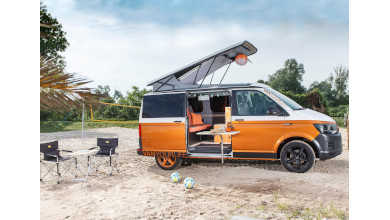 (Image courtesy of Flowcamper)
RVs come in all shapes and sizes, as Christopher Smith reports in this article from Motor1.com.
It's got everything, including the kitchen sink.
With winter weather waning in the northern hemisphere, it's time to turn our attention to outdoor adventuring. German-based Flowcamper offers an interesting solution for those who prefer small motorhomes with modest off-road capability. It's called the Casper, and it certainly stands out in a crowd. We mean that both figuratively and literally, which we'll talk more about in a bit.
The conversion starts with the venerable Volkswagen T6.1 that can be had with all-wheel drive and your choice of engines. From there, an abundance of Nordic spruce is added to create a full kitchen with storage, a 30-liter refrigerator, a sink, pressurized water, and provisions for a stove. The water system in the kitchen can also be used for an outdoor shower. Two rear seats with seatbelts are retained for four-passenger capability while traveling, and they fold to accommodate a large twin bed. The bed can be set up even without the seats in place, and the design allows for a small mini garage at the back for storage.
Click here to read the full article from Christopher Smith in Motor1.com.