RV News
RV PRO Celebrates 40 Under 40 Class of 2022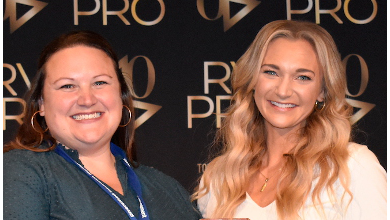 RV PRO Executive Editor Jennifer King awards 40 Under 40 winner Natalie Martin of Grand Design RV
The cheers said it all Tuesday night at RV PRO's third annual 40 Under 40 celebration, recognizing honorees in the Class of 2022.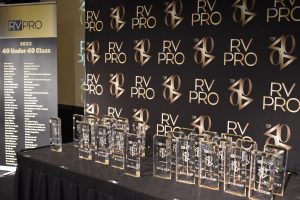 Twenty seven winners attended the event and were recognized on stage among nearly 150 coworkers, family and friends, who showed support as each honoree received their award as an up-and-comer in the RV industry. The ceremony took place on the second day of the RV Dealers Association (RVDA) Con/Expo at Caesars Palace in Las Vegas.
Co-emcees Chris Cieto, associate publisher of RV PRO; Kristina Shrider of RVEM Mastermind; and Jennifer King, executive editor of RV PRO, invited winners to the spotlight. All 40 of this year's class will be featured in the upcoming December issue of RV PRO magazine – including Kyle Correa-Brady, assistant general counsel for the RV Industry Association; Natalie Martin, director of marketing for Grand Design RV; Sarah Neely of Go RVing, and 37 more who represent all segments of the industry.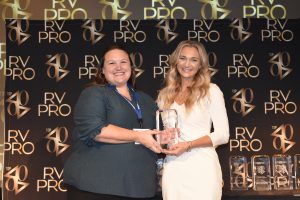 Representatives of 40 Under 40 sponsors also took the mic, congratulating winners on their contributions to the industry, to their companies and their communities. In attendance was Chad Reece of Winnebago; Jennifer Solomon of GE Appliances, a Haier company; Kim Gregory of Coach-Net; and Jason Nierman of Rollick.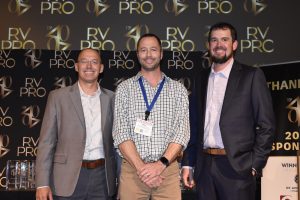 "RV PRO is honored to recognize this year's class of high-achieving individuals making their mark on the RV industry. This event is inspiring, and we look forward to continuing the tradition of putting up-and-coming leaders in the spotlight," said Cieto. "Many thanks to the RV Dealers Association for incorporating our event into the Con/Expo schedule and hosting us at Caesars Palace."
Along with 40 Under 40, Tuesday night's event also recognized the recipient of the Duane Spader Leadership Development Scholarship, announced by Spader's two sons. The scholarship awarded $15,000 to Mike Hochstatter, general manager of Hilltop RV & Camper in Fridley, Minnesota.