News
RV PRO Parent Gives Back to Local Habitat
This article is from our older website archives. Some content may not be formatted or attributed properly. Please
Contact Us
if you feel it needs to be corrected. Thank you.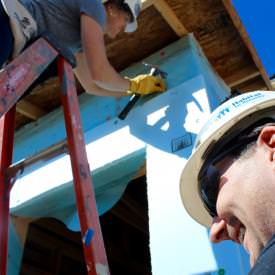 BROOMFIELD, Colo. – Habitat for Humanity of Denver hosted two days of charity and cheer as employees of National Business Media, RV PRO magazine's parent company, spent Thursday, April 6 and Friday, April 7, giving back to the local non-profit.
After the annual company meeting in November of 2016, NBM was looking for opportunities to give back. Every year, individual employees can donate through their paychecks or to a money jar at the front desk. The company matches those funds and a charity is chosen by a drawing to receive the donation. After the annual company-wide meeting, when CEO Bob Wieber asked employees what they'd like to see happen in 2017, plans for the community service day began to take shape.
"This year, we were able to take it a step further and spend a couple of days helping Habitat for Humanity Denver," said Wendy Miles, RV PRO magazine digital business specialist, explaining how the nonprofit makes volunteering easy by qualifying and connecting those in need with those who can help. Habitat also secures the equipment and materials and provides on-site training to volunteers – making it the ideal way for NBM to spend a day giving back. "It really solves the, 'I want to help, but I don't know where to start,' issue many (of us) face," she added.
With 29 volunteers signed up, three teams were divided over two days and two Habitat work sites in the Denver Metro Area – Gaylord St. in Denver and Knox Court in Sheridan, Colo. NBM employees arrived at their respective sites bright and early to spend the day building and repairing Habitat homes.
Employees relished in the opportunity to give back while also getting to know coworkers from different departments throughout National Business Media. "I talk with coworkers every day via email, but it's nice to spend real time with people you don't normally interact with," said Alexandria Arroyo, digital content editor for Printwear magazine. "It feels great to give back to the community."
Habitat employees were also grateful for the extra hand. "The NBM (volunteers) were great," said Habitat's Jose Elizondo. As construction supervisor, Elizondo is responsible for ensuring the houses are built to code and that the volunteers have a good experience. "The day was a lot of fun. We always appreciate the help," he said.
Giving back to the community as companies, organizations and individuals is important to the NBM legacy, Miles said. "Sure, it's usually easy to help people we know and love, but we should also be helping those who may never know it was us who helped them and may never get the opportunity to say, 'thank you.'"
Wieber said, "It's another great example of the unselfishness of our NBMers willing to give time and energy outside of our regular day-to-day responsibilities."
Following the success of the company's volunteer efforts, NBM hopes to give back to Habitat of the Flatirons near its Broomfield, Colorado headquarters. "Hopefully, in the future, Habitat of Flatirons will have a few more opportunities so we can stay closer," Miles said.