RV News
RV PRO Selects 2021 40 Under 40 Class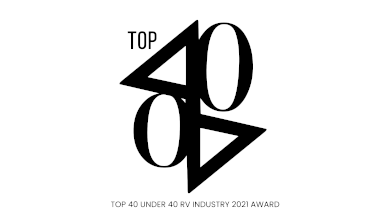 RV PRO magazine would like to congratulate this year's 40 Under 40 Class, who will officially be recognized in the upcoming December issue of the magazine.
After an open submission process that started in September, RV PRO received more than 120 nominations over a three-week period.
RV PRO staff took a week to review all the nominations. Submissions included personnel such as engineers and designers for RV manufacturers, representatives for OE and aftermarket suppliers, individuals working for business service groups, RV dealers and other retailers, RV technicians and parts & service representatives.
"Thank you to all who submitted their colleagues," said Publisher Chris Cieto. "The best entries included specific information and examples of how these young industry professionals are making an impact at their place of business and in the RV industry as a whole."
At the RVDA Dealers Convention/Expo in November, 40 under 40 winners will be recognized with a special event during convention week. Details on that event will be announced later this week.
The RV PRO 40 Under 40 Class of 2021 is:
Yuriy Katasonov – Diamond Shield
Eva Mitic – Go Power!
Ashley Bontrager – Ember RV
Matt Olds – East to West
Lisa Liegl Rees – East to West
Andrew Cooley – Storyteller Overland
David Copeland – Van Dyke Enterprises
Monika Geraci – RV Industry Association
Nick Ebenroth – Keystone RV
Nick Francis – KZ RV
Kristina Shrider – Giant Recreation World
Stefanie Zalutko – Zalutko Business Services
Jonathan Krawchuk – Samlex America
Ryan Hadley – TRIC RV Repair and Maintenance
Destiny Tolliver – Campers Inn
Karen Arnold – American Family RV
Volodymyr Kilchytskyi – Micro-Air
Justin Carlton – Carlton Camping Center
Faith Palmer – Atlantic RV Body Repair & Service
Cortni Armstrong – The Flipping Nomad
Paxton Jensen – General RV
Ed Sikes – Truist Bank
Mike T Keller – Keller RV & Marine
Neal Stewart – RV Connections
Chelsea Campbell – Keystone RV
Sara Porosky – Thetford
Andrea Graves – Heartland RV
Jason Riley – Rollick
Tommy Hall – Grand Design RV
Lacey Pintado – Coach-Net
James Bonin – Pan Pacific RV Centers
Darrin Caldwell – NIRVC
Jason Haugen – Haugen RV Group
Mary Kate Haller – RV One of Fort Myers
Chase Youngblood – Youngbloods RV
Matthew Fuller – Fuller Motorhome Rentals, Inc.
Nicholas Rudowich – RV Industry Association
Austin Meadows – Duo Form
Josh Murdock – Hemlock Hill RV
Alex Yerman – United States Warranty Corporation