News
RV Sales Surge in the Sooner State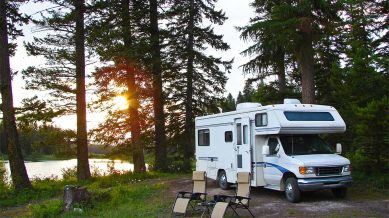 Oklahoma has some hidden gems when it comes to camping spots.
Air, bus, and train travel may be significantly down, but another market is climbing: the RV industry.
Oklahomans, tired of the four walls of their homes and wanting a travel experience, are traveling by RV to avoid COVID-19 risks.
At Bell Camper Sales in Bartlesville, sales have hit a high this year, said third-generation owner Lane Bell.
"The RV industry all over the country is booming right now," he said. "We've sold just shy of 100 in the last two months. Sales are normally 60 to 70. There is a decent chance that this will be the best year ever."
Blackie Bell, Lane Bell's grandfather, opened the business in 1969. The new location on U.S. Highway 75 opened in April.
"For people wanting to take a vacation, it's a perfect choice. You take and cook all your own food. You have your own bathroom and sleep in your own bed," he said. "It's a fun way to spend time with family and friends."
Click here to read the entire story from Kris Dudley of the Bartlesville Examiner-Enterprise.
One of the hottest RVs on the market features bunk beds for young families with children.
"Our average sale price is $26,000 to $27,000," Bell said, which costs around $250 a month in payments.