RV News
RV Shipments Expected to Reach New Heights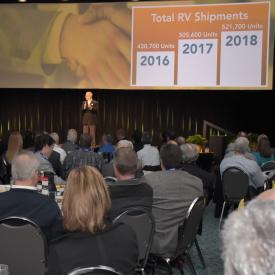 RVIA recently reported that the industry's RV shipments will top a staggering half a million units in 2017 with expectations of 505,600 units shipped by the end of the year. This represents a 13 percent increase above the projected 2017 total of 445,700 units, according to a new forecast from RVIA.
The forecast was prepared by RV industry analyst Dr. Richard Curtin and released by RVIA President Frank Hugelmeyer at Outlook 2018, the all-industry breakfast program that kicked off the 55th National RV Trade Show on Nov. 28.
The market projection sees towable RVs ending 2017 at 444,100 units and then jumping to 455,200 units in 2018. Motorhome shipments will rise to 61,500 units in 2017 and then grow to 65,500 units in 2018.
"In 2017, each and every month was the best on comparable record for shipments in that month.  And, 6 of those months – March, May, June, August, September, and October – recorded the highest monthly totals we've ever measured. October alone marks the highest monthly shipment totals we have ever seen at 48,926 units." said RVIA President Frank Hugelmeyer. "These historic shipment totals mark the ninth straight year of growth and represents an incredible rise of more than over the market bottom in 2009. Considering the RV market's impressive rise, it is time to begin an honest conversation about what it will take to build on this momentum. How do we go from 500,000 units to 600,000 units? Or even 700,000 units and beyond? We must focus on the one customer we all share, the RV consumer."
The emerging leaders were recognized during the Outlook 2018 breakfast as the Inaugural RV Industry 40 under 40 winners. Hugelmeyer thanked all winners for their contributions to the RV industry and highlighted that the talent that these bright, young minds bring to the industry will be the driving force that enable us to continue to sell more RVs in 2018 and beyond.
"Maintaining our momentum will also require a set of fresh ideas and new approaches," said Hugelmeyer. "As we all look to the RV market of the future, the success of the industry will be in the hands of our next generation of leaders. That is why earlier this year, RVIA launched a program to identify current and future leaders in the RV industry. The goal is to highlight and engage the next generation of innovators."