News
RV Technician Wraps Pilot for TV Show
This article is from our older website archives. Some content may not be formatted or attributed properly. Please
Contact Us
if you feel it needs to be corrected. Thank you.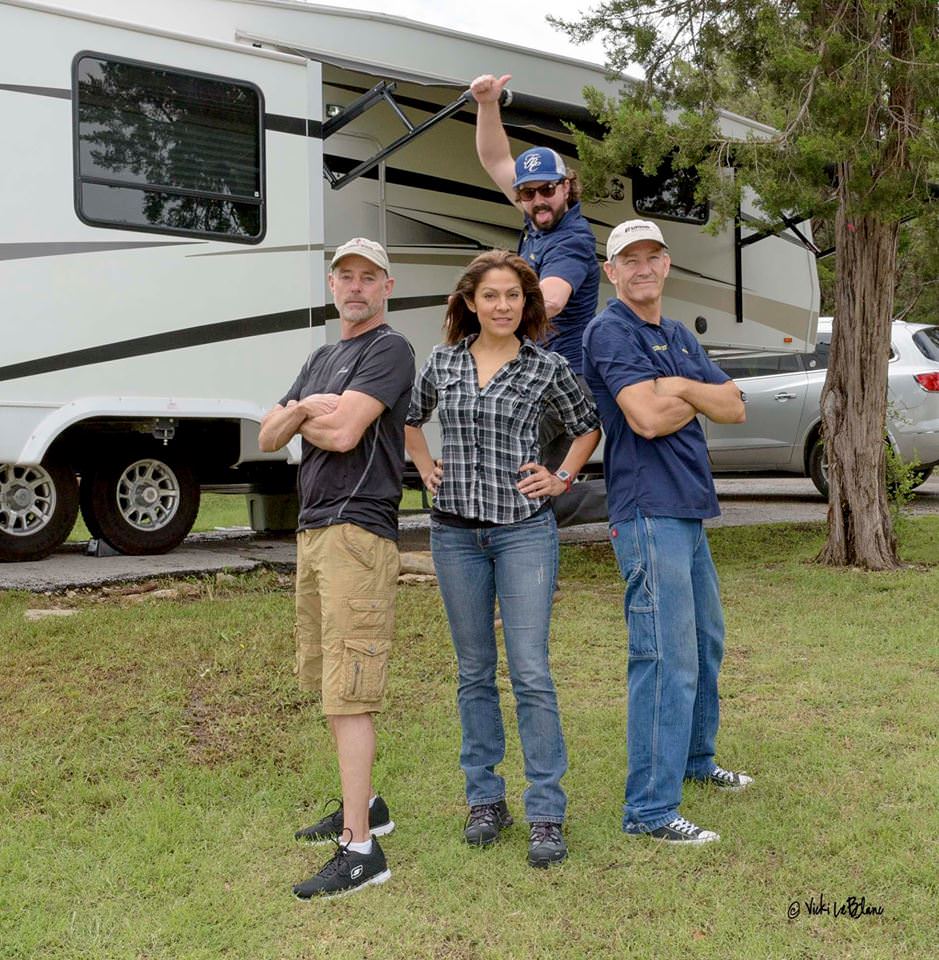 For the past 15 years, veteran RV technician Rodney Simmons has wanted to create a TV show.
Last week, with the help of a director and the crew at his mobile repair business, Simmons moved a step closer to accomplishing that dream.
The show, "Your RV Life", follows the crew of Simmons' Carrolton, Texas-based Blue Moon Mobile RV as they visit campgrounds and parks across Texas to give viewers a look inside the lives of RVers, offering maintenance and RV tips along the way.
The pilot episode, which Simmons is pitching to network TV outlets, features Possum Kingdom Lake in central Texas. During the episode, the team also explores a customized Newmar motorhome owned by a Dallas-area Parks and Recreation director, who is a quadriplegic.
"He's excited because now he gets to go from city parks, which are usually handicap friendly, to all kinds of parks," Simmons said. "He can just get in the RV and go. He also can participate in the tailgating, which is something he's wanted to do for a long time."
Although the show follows the team of technicians, it aims to focus on the RV lifestyle, while showcasing the beauty of parks and campgrounds.
"A very small segment of the show is about the shop, Blue Moon Mobile RV," he said. "It is part of the RV lifestyle. You have to have a shop. Even if you go through the owner's manual, depending on the complexity of the RV, there could be 20 hours per year of routine maintenance."
Simmons began making videos in the late 1990s, and after shooting an infomercial with former Dallas Cowboys player and Hall of Famer Randy White, he was encouraged to pursue film.
"(Randy White) told me I should do whatever it takes to pursue this. He really encouraged me," Simmons said. "Years have passed, and we tried to do it on our own, and just didn't do it right, but last year I met a director who was hungry, Grant Kaufman, of 12 Rounds Media."
The group completed the filming last week, and Simmons said the next obstacle is finding a network to air the show.
"Networks want established production companies. They don't want rookie stuff," Simmons said. "When we get in the door, they'll see that this is not rookie stuff. We really spent years behind this with lots of sweat and desire and just not giving up."
Simmons said that regardless of the response from network providers, his crew will continue to pursue the project with the same persistence that they've had throughout the production process.
"We've got a real positive attitude," he said. "It's going to happen, one way or another."
A trailer of the show can be watched below. To follow the process, or learn more about the show and its crew, visit the group's Facebook page.