News
RVDA Con/Expo Platform Offers Sales Training and More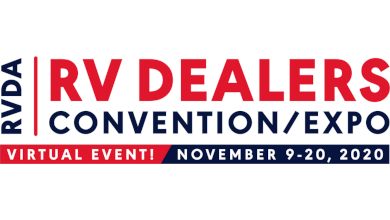 The RVDA Virtual Convention/Expo, which will continue to offer much of its content on-demand through the end of January, features several educational sessions aimed at keeping sales teams' approaches fresh and on point.
"The on-demand sessions offer a tremendous value to dealers – even to those still thinking of registering for the virtual convention/expo," said RVDA President Phil Ingrassia.
As much of the industry enters the winter training season, the RVDA Virtual Convention/Expo platform delivers a cost-effective way to provide professional development to new and experienced employees.
The sales workshops include:
Education
2021 RV Trends to Watch: Business Impact and How to Prepare
Jason Groesser, vice president of analytics and data strategy, RV Trader Interactive
As with any business, the RV industry is heavily influenced by economic factors outside of a dealer's control. In this session, Groesser uses data and trends collected from millions of real RV consumers to aid dealers in more informed decisions for their 2021 strategies.
Influencing the RV Consumer Path to Purchase
Paige Bouma, vice president of recreational brands, RV Trader Interactive
The average consumer consults 24 touch points in his path to purchase – and 19 of those are digital. Learn how to interact with consumers before they ever reach out or walk through the dealership door.
Down Payment Cures Reverse Equity
Jered Sobel, vice president, Sobel University
Many dealerships find themselves in disputes with customers when determining trade value or pricing to overcome potential reverse equity situations. As a result, customer interactions end when an agreement cannot be made over down payment. During this session, Sobel equips sales staff and F&I teams with actionable tools to increase profitability.
Black Folks Buy RVs Too: Do You Want Black Folks' Money or Not?
Earl B. Hunter Jr., founder and president, Black Folks Camp Too
Black folks spend 1.3 trillion dollars per year, yet RV Dealers have not recognized their spending power. Currently, the push is on to encourage more Black customers to indulge and enjoy the outdoor lifestyle. While RVing is the easiest barrier to entry, there are some key points that must be addressed before RV dealers fully understand the ROI. In this session, Hunter explains that it is not rocket science, but dealers must remove fear, educate Black customers, and invite them to RV lots with the same efforts as they do for "other" buyers.
Vendor Training Plus+
Sales Department: Optimize the Sales Funnel Using the LightspeedEVO CRM and DMS
Christopher Hauck, product manager, CDK Global Lightspeed
Learn how to use technology to create an unparalleled customer experience in the sales department.
How to Use Texting to Double Your Inbound Leads
Trevor Allred, vice president, business development, KENECT
Did you know that 89 percent of customers and prospects would rather communicate via text message than phone call? Learn how to double inbound leads using text messaging.
Identifying Opportunities
Rachel Osborn, client liaison, OperateBeyond
What is digital real estate, and how can businesses make the most of it? Rachel Osborn explores how to optimize the customer's shopping journey from concept to purchase and the steps to take to ensure continued success and growth in 2021.
LOW Inventory + HIGH Demand: Arm Your Dealership with a POWERFUL Solution that Separates Well-Qualified Buyers from RV Dreamers at "Hello"
Scott Krausman, managing partner, Qualify Wizard 
Natalya Mashkovtseva, vice president, operations, Qualify Wizard
In this session, attendees will learn how to expand the capabilities of their dealership's  brand, exceed consumer expectations, and convert browsers into credit bureau qualified prospects much earlier in the selling process.
In addition to more than 40 on-demand sessions covering all aspects of dealer operations, vendor exhibitor booths are open for attendees throughout the on-demand portion of the convention/expo, which closes on Jan. 31. To learn about all of the resources available, click here.
The 2020 virtual convention is presented by RVDA, RVDA of Canada, and the Mike Molino RV Learning Center. Follow the convention on social media using #RVDAConEx.