RV News
RVDA Expo Registration Opens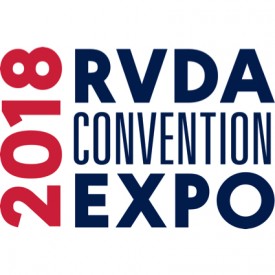 Registration is open for the 2018 RV Dealers Convention/Expo on Nov. 5 to 9 at Paris Las Vegas. Dealers are encouraged to bring their top performers for a week of fixed-operations training and education, leadership development, networking, and motivation that will take their performance to new heights.
The convention is sponsored by RVDA – The National RV Dealers Association, RVDA of Canada, and the Mike Molino RV Learning Center.
Early bird rates apply through June 30. Dealers who register at least one person from their dealership by June 30 lock in the discounted rate for the rest of their company's registrants—no matter when they sign up. The early- bird rate represents a 39 percent savings off the full convention rate for the first registrant alone. Online registration is open now and printable forms are also available.
The week kicks off with Vendor Training +Plus on Monday and Tuesday, the opening general session, Partners in Progress meetings, and for a nominal additional fee, a half-day course for Young Executives. In addition, the Society of Certified RV Professionals will head into its fourth year with a reception featuring recognition of certified RV professionals, including convention/expo scholarship recipients, a guest speaker, and networking opportunities. Registrants can also attend a mini-rental school at no extra charge.
Pertinent education tracks that address dealerships' key areas offer a curriculum designed specifically for RV dealership employees. Education tracks for dealer/GMs, sales, fixed operations, F&I, rental, and social media/eMarketing offer something to meet the professional development needs of today's RV industry professionals.
In addition, the Solution Center will feature an expo with more than 100 exhibitors that serve RV dealers by providing insurance products, finance tools, and training expertise, as well as the leading suppliers and manufacturers. These exhibitors offer dealers new ways to improve sales, management, customer service, and employee performance.
Companies interested in partnership and sponsorship opportunities and exhibitor information can contact Julie Newhouse at 703-364-5518 or send an email to jnewhouse@rvda.org.