News
RVDA, Others Backing Catalytic Converter Anti-Theft Proposal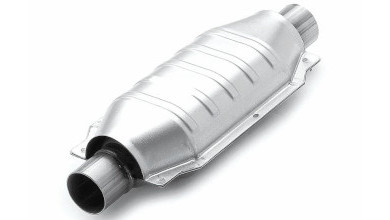 RVDA, NADA and 11 other industry partners sent a letter this week to U.S. House Energy and Commerce Committee Chairman Frank Pallone and Ranking Member Cathy McMorris Rodgers in support of H.R. 6394, a bipartisan bill to combat rising catalytic convertor theft in the U.S
The "Preventing Auto Recycling Theft (PART) Act" is aimed at the growing national problem of catalytic converter thefts, which cost businesses and vehicle owners millions of dollars annually.
Catalytic converters are being stolen at increasingly higher rates due to their valuable metals, such as rhodium, platinum and palladium. Stolen catalytic converters can garner anywhere from $20 to $350 on the black market, and the replacement cost to vehicle owners can be as high as $2,500. At present, thefts are hard to combat as catalytic convertors are not easily traceable and can be stolen from unattended vehicles in mass quantities, including at dealership lots.
As the nation observes National Police Week (May 11-17), the organizations who have signed the letter urge Congress to pass the bill, which would provide a federal framework needed for local law enforcement to combat catalytic convertor thefts. The PART Act will require that new vehicles have unique identifying numbers stamped on catalytic converters during assembly, as well as establishes a federal criminal penalty for the theft, sale, trafficking or known purchase of stolen catalytic convertor.
"I cannot overstate the gravity of catalytic convertor theft across the country," said Scott Lambert, president of the Minnesota Automobile Dealers Association (MADA). "Vehicle owners, including dealers and fleet owners, are collectively losing millions of dollars from these thefts, and in light of the global supply chain shortage, it is difficult and extremely costly to replace catalytic convertors. I urge Congress to move this issue forward and hold a hearing to explore remedies for the millions of stakeholders impacted."
In addition to RVDA, signers of the letter are:
National Automobile Dealers Association
National Independent Automobile Dealers Association
American Car Rental Association
American Truck Dealers
American Trucking Associations
Major Cities Chiefs Association
NAFA Fleet Management Association
National Automatic Merchandising Association
National Insurance Crime Bureau
National Private Truck Council
National Sheriffs' Association
National Tank Truck Carriers