News
RVi Launches a New Brake, Tablet, and Foray into the Future
This article is from our older website archives. Some content may not be formatted or attributed properly. Please
Contact Us
if you feel it needs to be corrected. Thank you.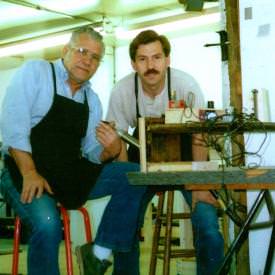 Before braking systems came into play in the RV industry, Dan Decker Sr. and his wife experienced a moment of panic.
To prevent a collision while on vacation, Dan Sr. slammed his RV's brakes, while flat towing their vehicle. They nearly crashed with the vehicle in front of them. Apprehensive to set out again, the electrician/machinist turned tinkerer invented what became the Brakebuddy, made with electronic parts, wood, and an air-filled propane tank. Placed inside the towed vehicle, it assisted in braking.
His son, Dan Decker Jr. then improved the device in his machine shop. Dan Jr. and his father slowly began collaborating on a brake system. Although it was merely intended for a one-off use, the prototype would lead to what would become Colorado-based RVinnovations (RVi).
"This was the start of an industry," said Jerad Burkhart, marketing director for RVi.
Last March, the supplier released RVibrake 3 and the Command Center tablet – one of the most efficient brake systems to come out in the industry.
"We wanted to design it in such a way that a little kid could set it up," continued Burkhart, who compares its ease of use to the iPad. One button to set up. Few questions asked. Simple.
And while Apple has Siri, RVibrake 3 has voice assist set up, which takes about 30 seconds.
Users push the button once the brake system – nearly the size of a jerry can – is placed in front of the brake. A claw on a metal arm clamps the brake. Two button pushes later as prompted by a voice on the RVibrake 3, and the system is online. (A little secret? That voice assistant you'll hear is Burkhart's.)
Depending on the vehicle, the RVibrake 3 can push up to 115 psi. With the tiny accelerometers, the detectable inertia is proportionate to the vehicle size.
Today, just as Brakebuddy was a benchmark, RVi's Command Center tablet and interface hub has become the supplier's next milestone.
"The RVibrake 3 has some advantages as a braking system over the RVibrake 2, but primarily the biggest advantage is the Command Center," said Burkhart. "It's the epicenter of our product line."
The brake is more of a "peripheral." The Command Center connects the brake system with other RVi sensor products, like Tire Patrol, enabling seamless communication on the company's 7-inch tablet. The tablet becomes a window into an RV's behavior. (Think Knight Rider minus the Hasselhoff-KITT banter.) And though there are no concrete plans set, RVi may integrative quantitative data rundowns to tell drivers how to improve upon their driving to gain more longevity from their vehicle.
Braking feedback. RV leveling. Support and checklist features. All the information is transmitted using encrypted Wi-Fi. Pairing additional RVi products with the tablet is as easy as scanning its QR codes.
Tire Patrol can monitor up to 14 tires on two different vehicles with sensors that automatically detect which tire it's on. A battery management chip on the sensor detects when the vehicles are in motion so it can come back from conserving the battery on sleep mode.
The idea for the touchscreen tablet came in 2013, and they brought on an electrical engineer to begin development on it the following year.
It's a lot for a small company of 10 people – half of which do hands-on labor to develop products.
"It was a daunting task," said Burkhart. The brake took two-and-a-half years of development. There's a naiveté of "we can do this," he said, and you struggle on certain days, seeing cartoonish plumes of smoke rise from knickknacks, but the payoff is more than worth it.
"So much of what we've accomplished is so new," he concluded. "Just seeing that first brake ship was … man, it was powerful. We were just a bunch of nobodies in Castle Rock, Colo., doing this crazy stuff."
More information on Command Center and the RVibrake 3 (MSRP $1,195) can be found at www.rvibrake.com.