News
RVIA Announces 10 Possible Cities for New Event
This article is from our older website archives. Some content may not be formatted or attributed properly. Please
Contact Us
if you feel it needs to be corrected. Thank you.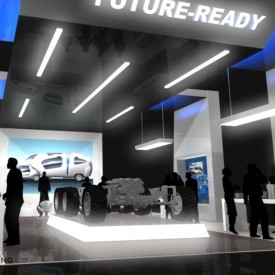 ELKHART, Ind. – The RV Industry Association has announced the 10 cities under consideration for the site of its groundbreaking "RV Reveal" event in 2019.
The 10 cities are: Dallas, Denver, Detroit, Orlando, Atlanta, Salt Lake City, San Antonio, New Orleans, Anaheim and Indianapolis. RV Reveal will be held at a different city in each of the first three years. RVIA hopes to announce the dates for the inaugural event in early April. At this point, RVIA is looking to schedule RV Reveal in either March or April each year.
Space needs for RV Reveal will total about 500,000 square feet or less than half the space used at the now defunct National RV Trade Show in Louisville, Ky.
These new details surfaced during an hour-long presentation on Thursday at the RV-MH Hall of Fame in Elkhart, Ind. RVIA's Liz Crawford, senior vice president of trade shows and events, and Jeremy Greene, director of marketing for trade shows, led the presentation.
Crawford and Greene were as candid as possible, but it was clear RV Reveal remains a work in progress. The audience of 50, hailing mostly from the RV supplier side, received a shortened version of the same presentation given to the RVIA Board in January.
RV Reveal will consist of several elements including a new product launch, an educational platform for OEMs and dealers and an "Iron Tech" challenge for service technicians.
RV Reveal represents a shift in venue, timing and event purpose and size and will be designed to feature new model launches in the spring, Green explained. The focus of this "reimagined" trade event will be on the latest product innovations or "must see" products, which will be unveiled on a main stage in a theater setting.
The event is "not designed to be an 'arms race,'" said Greene, so only new products will be shown. This will yield a much smaller new model display. But he noted that all suppliers will have the opportunity to show their latest innovation at display booths on site during the 2 ½-3-day event.
RV Reveal will be geared to highlight the latest innovation to dealers, but will not be a selling show. That function, originally fulfilled by the National Show in Louisville, has been usurped in recent years by the Open House held each September in Elkhart.
Following the RV Reveal, the GO RVing Roadshow will travel across the U.S. to create consumer interest for the newly debuted new products and innovations.
Details on how suppliers fit into the event have yet to be determined, said Crawford. But besides the vehicle unveilings, suppliers will have latitude to highlight new products in their individual booths.
Greene conceded that some of the innovation unveiled at RV Reveal might just be concepts and not immediately be available on new models.
RVIA is soliciting volunteers from across the industry to serve on one of four task forces set up to address key elements of RV.
RVIA's choice of venues will be impacted by timing – many sites are booked as much as 5 to 10 years in advance so the choices are limited – but also by the desire to hold RV Reveal in a variety of sites. Some of the 10 cities aren't even available for a 2019 event but are being looked at for future years. PR from the rotating shows will help RVIA engage consumer interest, Greene said.
Crawford and Green said RVIA welcomes industry comments, which will be forwarded to the RVIA's Tradeshow and Events Committee. Final decisions rest with the RVIA Board.