RV News
RVWA Hosts Second Annual Breakfast at Open House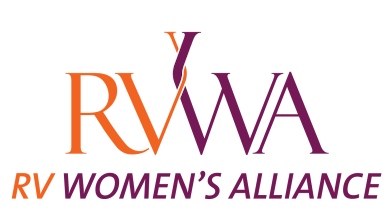 A nearly full house gathered this crispy Tuesday morning for the second annual Open House breakfast, hosted by the RV Women's Alliance (RVWA) in Elkhart, Indiana.
The crowd represented all RV market segments taking the opportunity to network over coffee and a warm buffet, followed by a talk on economic outlooks and roundtable discussions covering the industry's hot topics.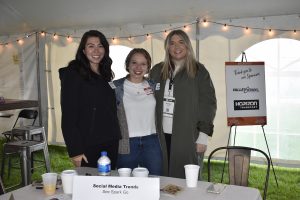 The event was emceed by Jessica Rider, RVWA's managing director, and John DiPietro, co-host of the popular show RVing in New England.
Leading economist Lauren Stockli from ITR Economics was the event's featured speaker, who detailed overall outlooks and the RV industry's place in a shifting economy. Taking the opportunity to reach out to new audiences and think creatively will help increase market share, she said.
"Conduct that market research and find out what's important," Stockli said during her talk.
Breakfast was located outside Lippert's headquarters, where participants arrived to tables organized by topics, which later became spaces for featured company reps to answer questions about technician training, marketing and social media, Together Outdoors, RV influencers and more.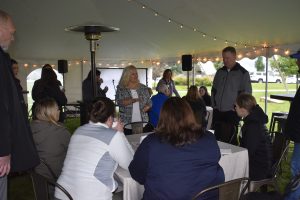 The successful launch of the industry's first all-female tech training spurred a slew of upcoming courses, with five scheduled throughout next year. Tracy Anglemeyer, director of recruitment for the RV Technical Institute (RVTI), said dates and locations were finalized yesterday with details soon to come.
At other tables, such as one led by RV influencers Nate and Chelsea Day, participants learned how businesses in various segments can utilize brand ambassadors. Marketing agency See Spark Go's company reps answered questions on social media trends and tips for being effective with an RV-centric audience.
In addition to learning and networking opportunities, RVWA hosted a "card writing campaign" for participants to write encouraging words for Care Camps kids who are battling cancer.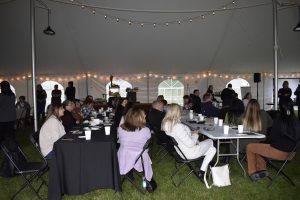 During his remarks, co-emcee DiPietro asked the crowd for a moment of silence for Congresswoman Jackie Walorski, who was killed in a car accident earlier this year. She represented the Elkhart region and was a fierce advocate for the RV industry. He noted that she likely would have been in attendance at Tuesday's breakfast.
The alliance's Open House Breakfast had numerous sponsors including the RV Industry Association (RVIA), Lippert, Patrick Industries, Campers Inn RV, Little Dealer Little Prices and more.