RV News
SeaSucker Offers Holiday Decorating Solution with Wreath Hanger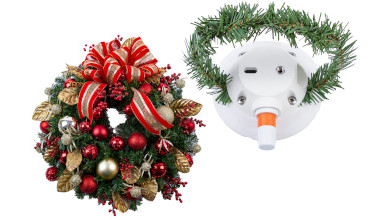 It can hold 120 pounds
No one wants to nail into the side of a boat or RV to hang holiday decorations as they might a house. SeaSucker said its new product, the Wreath Hanger, takes care of that problem.
Wreath Hanger can be attached to any clean, non-porous surface, and it will hold up to 120 pounds.
Made in the USA, the Wreath Hanger uses a 4.5-inch SeaSucker Vacuum Mount. Once placed where desired, the power button is given a few easy pumps with a finger and it instantly takes hold, even to painted doors. A flexible wire covered in garland makes hanging a wreath or other decoration easy, according to the company. When the holidays are over, it removes quickly without leaving a mark. Equally useful for adding festive flair to a boat, RV, vehicle or home, the SeaSucker Wreath Hanger costs $39.99.