News
Sources: Thor to Cease Producing Livin' Lite Branded RVs in 2018
This article is from our older website archives. Some content may not be formatted or attributed properly. Please
Contact Us
if you feel it needs to be corrected. Thank you.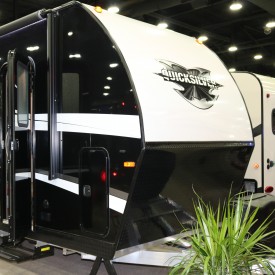 Livin' Lite will discontinue production on its entire line in the next several months, four dealer sources have told RV PRO.
Quicksilver Tent Trailer shipments will go out for the last time in March or April, according to a blog post by Barry Miller, owner of Miller RV in Metcalfe, Ontario, Canada, whose dealership carries Livin' Lite products. Following that, Camplite travel trailers, truck campers and toy haulers will be shipped for the last time in June, he said.
"People were just starting to see the value," said Chris Pillings, a salesman at Halterman's RV in Arlington, Wash., whose dealership also retails Livin' Lite products. Like Miller, he said the dealership was told by a company rep that Livin' Lite would cease production. "We like carrying it. We like representing it. We're bummed to hear it go."
Jim Humble, general manager of Windish RV Center in Colorado, said he was at an RV show in Denver last month when he said his sales rep came up to him and delivered the news that the Livin' Lite line would be discontinued. Between his three Colorado locations, he has about 20 Livin' Lite units.
"I told him that would've been great to know four days ago, otherwise I wouldn't have put any on the show floor here," he said.
Separately, a fourth unnamed dealer in a different region of the country who retails Livin' Lite product told RV PRO he had also heard from his Livin' Lite rep that the brand would be discontinued in 2018 sometime in advance of Elkhart Open House Week.
K-Z President Aram Koltookian, whose division oversees Livin' Lite, declined to offer a comment for this article.
Thor Industries acquired Livin' Lite in 2013, about 10 years after the RV maker was founded by Scott Tuttle. The manufacturer became known for its chic-modern innovations on aluminum-laden, lightweight trailers. More recently, Livin' Lite won a Dealer Satisfaction Index award during the RV Industry Awards in Louisville, Ky.
Among those disheartened to hear about Livin' Lite's apparent fate is Tuttle, the company's founder and former owner.
"It's sad to see it go away," he told RV PRO. "The people that were associated with designing and bringing the Livin' Lite products to market were like a family, and that is what I have missed the most over the last couple of years as Livin' Lite tried to find a place in the larger corporate world of RVs."
Although Livin' Lite will no longer be in operation, Thor Industries will continue to honor the manufacturers' two-year warranty.
Miller broke the news about Livin' Lite in his blog, which soon came to the attention of RV PRO.
In January, Miller said he got word from one of his reps that deadlines were set in place for last orders because changes were coming to Livin' Lite. He also learned that QuickSilver toy haulers would be the first to cease production, with orders needing to be placed last month.
Miller said his last batch of QuickSilver is expected to arrive at the end of March or in April. For the rest of the product line, according to Miller and Pillings, the last date to get orders in will be April 15. Miller said he's happy that Livin' Lite didn't pull the rug from under him, and that the deadline is cushiony enough.
"(K-Z) took the high road, at least, being fair to their dealers," he said. "Major decisions like that from a major corporation generally come out last minute. There's very few people informed until they need to know."
The good news, he said, is that the lengthy transition allots dealers time to pick up a new line.
Miller said he is under the assumption that Livin' Lite will be dismantled, and that a rebranding won't be in effect.
"Whether it will reopen under a different name, I have no idea," he said. "I just know these decisions had to be made, and they kept us in the loop as a dealer."
Humble said his dealership picked up the Livin' Lite product line late last summer, and it's done well for him since, having sold some retail units recently.
"It's always been a product that's cool. It's a niche-y thing with a story behind it," said Humble, putting Livin' Lite in the same category as the [email protected], which he also carries. "You're never going to sell it like a (Keystone) Passport, but it's got unique interiors that appeal to some people. That was the reason we took it on."
Miller said he believes that because Thor acquired the company less than five years ago, the news will be a surprise to many.
Miller said he found that the QuickSilver trailers were especially popular given that anyone with a four-cylinder or an SUV could haul it, he said.
"It's just that Livin' Lite was an easy sell – it sold itself," added Miller. "There's a lot of followers – a lot of true believers in the product. It's not an impulse buy, so it's unfortunate (K-Z) couldn't have gone down a different road, but I'm not the decision-maker."
For Tuttle, it was the nontraditional construction of the product line that made it so special.
"I know this," said Tuttle, "the people who do own Livin' Lite units will be enjoying them for years to come because of their unique construction; and everyone ever associated with the product – whether former Livin' Lite employees or Thor employees – can be proud of that."