News
South Bend Boat Show Returns for 2021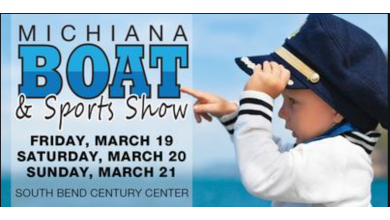 After a layoff of roughly a year, life has begun returning to Century Center in downtown South Bend, Ind.
Workers have been busy the past couple of days setting up for the Michiana Boat & Sports Show, which will kick off at 2 p.m. today and continue through the weekend. More than 125 pontoons, personal watercraft and sports boats will be on display during the event.
Because of COVID-19 restrictions, participants are encouraged to buy tickets online before the event by visiting www.michiana-boatshow.com. Organizers hope to control the flow of visitors to the show since Century Center is limited to less than 20 percent of normal capacity.
Masks are also required, hand-sanitation stations will be set up, and organizers are even trying to control the directional flow of visitors to the event, which is only the second one held at Century Center in the past year.
Jeff Jarnecke, who oversees Century Center and other sites as executive director of the city's venues, said they've been working closely with the St. Joseph County Health Department to determine occupancy levels and best practices to slowly restart the events schedule at Century Center and the Morris Performing Arts Center.
"I'm optimistic we can deliver events in a safe way," said Jarnecke, adding that ventilation dampers also might be opened to increase air flow in Century Center and crews will perform a deep clean every night after the show.
Click here to read the full report from Ed Semmler in the South Bend Tribune.