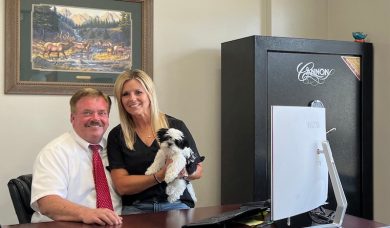 Larry and Stacy Cox in their new facility
Indy RV, which was founded by Larry Cox to serve the Hurricane/St George, Utah, markets more than 15 years ago, has developed a new 10-acre facility. The expansion includes a 10,000-square-foot sales and service facility and five large service bays with 14-foot high doors to accommodate the largest RVs.
Located at the "Doorstep of Zion National Park," Indy RV is a family operation, with Larry's wife Stacy helping with administration; son Skyler is the GM; and son Trevor is in charge of sales and marketing.
Cox has an extensive background in automotive, construction and home remodeling, and did much of the design and building himself and with help from family.
To watch a video tracking the progress of the construction see below.