RV News
Stone Vos Unveils New Acrylic Fabrics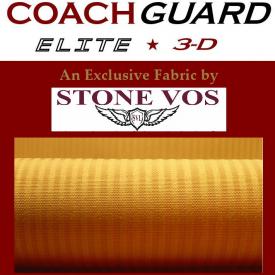 Stone Vos has announced a new product to its acrylic fabric lineup for 2018. The Brooksville, Fla.-based awning fabric replacement specialists have recently added two new fabrics Coachguard Elite and Elite 3-D.
The new fabric has a high water-column rating, and uses CBA fiber technology.
"Our new Coachguard Elite fabric is an amazing new development for RV awnings and slide toppers, and we are proud to be the first awning fabric replacement manufacturer in the world to utilize it," said Ingrid Throgmartin, CEO of Stone Vos. "It has an incredible haptic quality due to the CBA fibers as well as a 3-D effect to the fabric itself in addition to excellent UV ray and mildew inhibitors. Furthermore, it has one-third more water repellency than any other acrylic fabric on the market."
Coachguard Elite, a trademarked Stone Vos fabric, is manufactured in Europe. The weave of the fabric produces an RV awning product that will not shrink or stretch. The CBA fiber technology creates a smooth surface which helps to repel dirt. Sewn with PTFE lifetime thread, Coachguard Elite carries the same warranty as the standard Coachguard Acrylic fabric which is a 10-year free replacement warranty.
"We will be offering our Elite fabric line for all Dometic, Carefree, Girard, Brustor and Zip dee assemblies. We also will be able to closely match many of the OEM colors in order to maintain aesthetic values for existing fabric," said Throgmartin. "We have the reputation of being the Nation's leader with the highest quality RV awning fabric offerings and with the addition of Coachguard Elite we plan on maintaining that position well into the future."
Stone Vos has a dealer network program for the U.S. and Canada, as well as Europe, and ships worldwide with customers throughout Europe, as well as the Asian/Pacific regions.