RV News
Study: RV Market to be Worth $75 Billion by 2025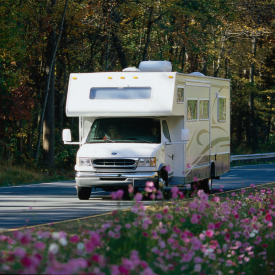 The global RV market was worth $54.6 billion in 2017 and is anticipated to grow at a CAGR of about 4.11 percent from 2017 to 2025, according to research conducted by Hexa. The research showed that the growth of the RV market is majorly driven by its use for camping activities. From a conventional camp tent to the comfort facilities provided by a RV, camping has enabled people of all ages to plan for outdoor activities. It has been estimated that in 2016, about 40 million Americans have participated in camping activities which is a primary booster for the growth of global recreational vehicle industry.
North America is driven majorly by the U.S. market wherein approximately 10 million of the consumers aged between 35 years to 75 years, own RVs. More than 80 percent of the vehicles are manufactured in Indiana, wherein about 60 percent of it are developed in Elkhart County. Around 90 percent of the U.S. production are exported to Canada majorly. The U.S. has been the consistent trading partner with Canada with respect to RV market.
Among the two types, towable accounted for the largest category of exports, with an approximate share of 76 percent. Increasing accessibility to Canada market is likely to scope up potential opportunities for the small sized and new entrants in the U.S. RV market.
China market is witnessing significant transitions in the market. The increasing development of tourism and campgrounds coupled with consumers' changing travel preferences is spurring the traction of the RV market. However, the domestic RV market in China is still in the nascent stage, wherein consumers purchased about 25,000 vehicles in 2016. The purchase number is expected is to reach 500,000 by 2020 supported by growing economy and rising middle class.
The U.S. manufacturers are facing potential and strong competition from other global RV manufacturers based in Europe. European producers have been actively scooping out opportunities in the developing China market, including activities such as creating campgrounds and RV standards.
The global RV market is highly consolidated in nature. The major player including Thor Industries, Forest River, Winnebago, and REV Group, are some of the leading players in the industry, accounting more than 55 percent share of overall industry.