RV News
Supplier Show Draws Healthy Turnout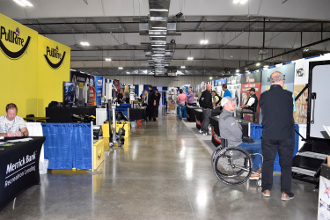 This year's supplier show was double what it was in 2019.
The 2022 Supplier Show returned along with Open House Week in Elkhart, Indiana, this week, and once again is headquartered at the RV/MH Hall of Fame.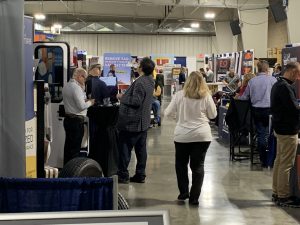 According to Darryl Searer, president of the RV/MH Hall of Fame, the first Suppliers Show was held in Elkhart in 2019. Before that, in Louisville, Kentucky, for some 50 years.
"This is the second annual (in Elkhart)," Searer said. "This should be the fourth annual."
He said this year was not quite a sellout, but it was double the size of the one two years ago.
"(In 2019) we were sold out with 96 suppliers and 115 booths," Searer said. "This year, we were not quite sold out, but we have 197 suppliers and 240 booths."
Searer said there's been no shortage of people he's talked to who are here as attendees – some just here to check it out – who are saying they'll not only be back next year as a participant, but want to give Searer their information now so they have a spot reserved.
"This year the show has really turned out to be quite an event. I remember when there were only three of us here with our booths behind registration," said Bert Alanko, chairman of MBA Insurance. "I don't think any of us could have imagined it would become what it is now. This is kind of what Louisville used to be back in the day. It is a lot of fun being here and it's fun to be able to support the Hall of Fame and support its success."
The Hall of Fame took over hosting the Suppliers Show after the Louisville show ceased operations and the Hall came to an agreement with THOR Industries CEO Bob Martin. The Hall of Fame hosts the show, and THOR uses property adjacent to the hall to set up its displays during Open House Week.
The world's largest manufacturer put in one million square feet of blacktop to accommodate its show, Searer said. The other weeks of the year, the hall can use that space as it sees fit.
"We've had some good conversation about our new products," said Jeff Squiers, marketing manager of Hanwha Azdel. "We talked to a manufacturer from Brazil and a dealer from Switzerland. We were able to share with them about our new floor construction which has two layers of our materials with foam which may already be in use with a top layer of fiberglass."
Searer said he's thrilled to have the hall as a centerpiece on Open House Week and is always just happy to have everyone back this year. It's an industry event that will never be able to be replicated virtually.
"Everybody is excited to be back," he said. "Not just to see potential customers, but to share with other suppliers who may or may not be competitors. They get a chance to compare notes and check in.
"And we're hearing they can't wait to come back next year."
On the lighter side, like any trade show, some vendors go above and beyond to get creative with their booths, both to entertain and engage visitors and to pass the slow parts of the day which are an inevitable reality at any show. At the Relentless Dealers Services booth, for example, visitors were invited to try their hand at hatchet throwing. The harmless kind, that is.