RV News
Survey: Campgrounds Advanced Bookings Up Over 50%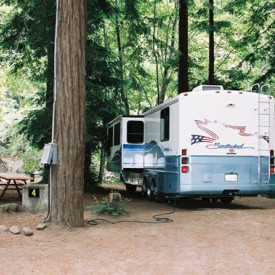 Nearly two-thirds of respondents to a recent survey stated that their advanced bookings at campgrounds and RV parks are up 50 percent over average for the 2021 camping season. Twenty-four percent of respondents are seeing advanced bookings up over 80 percent for the same period.
That's according to a survey of 2,000 campgrounds and RV parks performed by CampgroundViews.com.
"The outdoors and camping provide a safer alternative to other forms of travel and vacations," said Mark Koep, founder and CEO of CampgroundViews.com. "We expect 2021 to be the year of camping with record numbers of Americans camping in tents, RVs and glamping accommodations."
The survey results mirror data released by RVIA showing record RV sales and confirm that more people are buying and planning to use their RVs to go camping in 2021. The surge in campers is causing the old-fashioned camping industry to improve with the times, the report said.
CampgroundViews.com said it is helping to bring a new generation of technology to help campers enjoy their trips.
"The timing is perfect as we release campground virtual tours and allow campers to see the roads and sites while being able to click and book specific campsites," said Koep.