RV News
Talin Updates Guardian Plate Design for Slide-Outs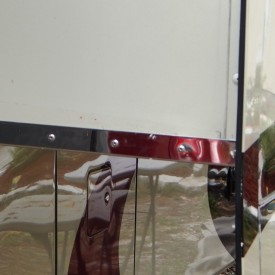 Talin Mfg. recently updated its Guardian Plate systems. The slide-out plating system used to correct under slide delamination and floor rot on Monaco brand motorhomes recently underwent a design change to include all gas motorhomes and towables.
"Our Guardian Plate system was originally engineered for Monaco brand coaches," said Chris Throgmartin, director of Talin. "The slide sidewall facing on our previous plates were manufactured to accommodate these coaches slide construction. Since then we have started to adapt these plates for other RVs which have different sidewall structures. The plates we now manufacture will be a direct fit for all RVs."
The Guardian Plate system was designed by Throgmartin in 2015. Each plate is custom-made for each individual slide and all holes are pre drilled. The plating system corrects minor floor rot and prevents reoccurrence using stainless plates and specialized sealants and adhesives.
"We developed this system because too many floors were being needlessly replaced," said Throgmartin. "The installation of our plates can save the RV owner thousands of dollars. It has been a popular system and we have never had a failure or rot reoccurrence. We are also getting reports of much smoother slide operation and our customers love the chrome appearance of the plates."
The Guardian Plate system is sold in kit form including plates made from USA, 304 mirror stainless steel, 304 aviation rivets, and specialized sealants and adhesives. Installation takes 2 – 4 hours depending on the slide. When installed, the Guardian Plates seals the corners and enhances the slide structure itself, according to the company.