RV News
TAXA Outdoors Unveils New 2020 Models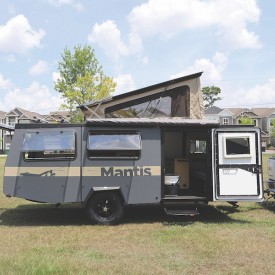 TAXA Outdoors will be unveiling new Mantis, Cricket, TigerMoth and Woolly Bear models for 2020 at Open House. New models will offer updates and renovations to key interior and exterior features of the habitats.
The 2020 Mantis features include a new pop-up roof offering panoramic, 360-degree views and increased ventilation with six large windows, a new rear-door hatch to allow for a more open footprint and accessibility for storage of adventure equipment. With a dry weight of 2,882 pounds, it is towable by most SUVs.
"We listened to the needs of our customers and fans when designing the new Mantis," said CEO and Founder Garrett Finney. "With more living space for bigger families, a more open-air design and versatile storage options for bikes and kayaks, intended to better bring the outdoors in, we can't wait for people to get out and explore in this new model."
Additional new features include a multi-function seating and dining system that offers space for eating, playing games or working while inside, and when removed offers a large bed to accommodate taller owners.
Wider bunks and new imported European cushions allow for more comfortable sleeping, and the addition of attachment points for use with a hammock or rooftop tent offers added sleeping space for five or more.
The 2020 Mantis starts at $46,167.