RV News
Tesla Veterans Introduce 'Revolutionary' All-Electric RV

Lightship, America's first all-electric RV company, has launched the Lightship L1 – an aerodynamic, battery-powered travel trailer and the first purpose-built travel trailer with a self-propulsion system that enables near-zero range or mile-per-gallon efficiency loss for the vehicle towing it.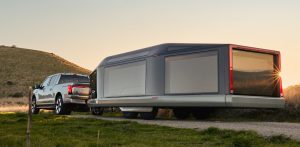 Lightship co-founders Ben Parker and Toby Kraus said they saw an opportunity in the RV industry that reminded them of the early days they'd seen working at Tesla. Advancements, much less genuine innovation, had stagnated in the RV industry, the pair claimed, as the result of the market being dominated by only a few large companies.
"One in 10 American families own an RV, but the RV industry hasn't experienced innovation for decades," said Parker, Lightship co-founder and CEO. "Inefficient, unreliable product designs and a power experience that relies on smelly, noisy, gas or propane generators fundamentally hinder the amazing experience of traveling in the outdoors."
The Lightship team, which includes alumni from Rivian, Proterra, Lucid and Zoox in addition to Tesla, is leveraging their expertise in automotive EV development and design to deliver what they say is:
A hyper-efficient design that is three times more aerodynamic than a traditional travel trailer for longer range and greater efficiency, which means a 300-mile range electric vehicle (EV) used to tow it remains a 300-mile range EV, and a 25-mpg gas truck remains a 25-mpg gas truck.
An electric powertrain with up to 80 kilowatt hours (kW) of onboard battery capacity, allowing the trailer to propel itself and achieve near-zero range or efficiency loss for the tow vehicle.
A no-compromise battery system that can provide a week of off-grid power without charging. Coupled with up to 3 kW of solar power, the RV can power the living needs of its occupants and eliminates the reliance on propane and other fossil fuels.
An ecosystem of all-electric appliances, connected features and modern amenities for a seamless camping experience.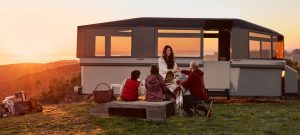 The Lightship L1 has a starting price of $125,000 or $118,400 after an available tax credit and is available now for a $500 pre-order on the website here. Production is expected to begin in late 2024.
"With 90% of the market comprising of towable RVs, we began by creating an all-electric travel trailer that is unlike any RV available today and that is just the beginning," said Kraus, Lightship co-founder and president. "We are leveraging our expertise in automotive EV development and design to build a brand that creates delightful outdoor travel experiences for everyone and brings even more people into the pastime of RVing."
Lightship completed a Series A funding round in the summer of 2022 led by Victoria Beasley of Prelude Ventures and a seed funding round in 2021 led by Andrew Beebe of Obvious Ventures. Other Lightship investors include Congruent Ventures, My Climate Journey, HyperGuap, Alumni Ventures, Climactic and Tony Fadell's Build Collective.
"L1 is the RV revolution needed for those who love to explore our planet while making sustainable choices. We want to experience our amazing planet without harming it," said Fadell, iPod inventor, Nest founder and NYT bestselling author of BUILD. "It's not an ancient RV that's been 'electrified.' L1 has been entirely rethought for camping and towing – for both EVs and standard ICE SUVs and trucks. Lightship is changing the industry forever for the better."
You can watch a video featuring the new EV here.