News
The 52ND 'America's Largest RV Show' Opens Today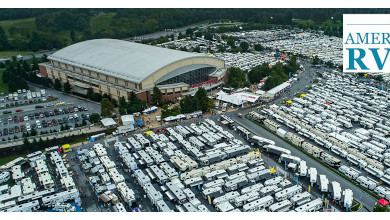 America's Largest RV Show opens today is Hershey, Pa., with more than 1,200 new RVs on display at the Giant Center. More than 30 manufacturers will be displaying every type of RV imaginable, with dealers and manufacturer representatives available to answer questions and help consumers find a great deal on a new RV.
"After a year off, we are very excited to host the 52nd annual America's Largest RV Show," said Heather Leach, executive director of the Pennsylvania Recreation Vehicle and Camping Association (PRVCA). "With the renewed interest in camping and RVing, the show is a great place to learn about RVing. There are so many knowledgeable people at the show to help answer questions and help you find the perfect RV, products and accessories."
Along with RVs, there will be aftermarket products to upgrade an RV; RV rentals; campground and vacation destination information; and personal care items. Industry professionals will present seminars with tips on buying an RV, maintenance, safety, full-time RVing, RVing in retirement and ways to personalize an RV.
The show is open Wednesday, Sept. 15 – Saturday, Sept. 18 from 9 a.m. – 8 p.m. ET and Sunday, Sept. 19 from 9 a.m. to 5 p.m. ET Parking is free.
For more information click here.