News
This Motorhome is a Cool Half-Million, But it's Also a Garage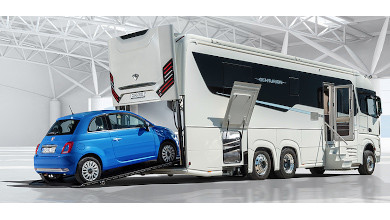 A different kind of toy hauler ...
A German motorhome manufacturer has begun selling recreational vehicles big enough to carry a small car in its belly.
The convenience of having two vehicles in one comes with a hefty price.
In Europe, the cheapest offering starts at €320,000 (approximately $372,000) and climbs beyond €335,000 ($389,000) with a few options added.

And that's the most basic model in the range, the Concorde Daily (based on the underpinnings of the Iveco Daily van).
The next model up is the Concorde Atego (based on the new generation Mercedes Atego truck). It starts from €430,000 ($499,000) and the price stretches beyond €448,000 ($520,000) with a few options added.
Click here to see the full report from Joshua Lawton in Australia's CarAdvice.com.