News
Thor Acquires Jayco for $576 Million
This article is from our older website archives. Some content may not be formatted or attributed properly. Please
Contact Us
if you feel it needs to be corrected. Thank you.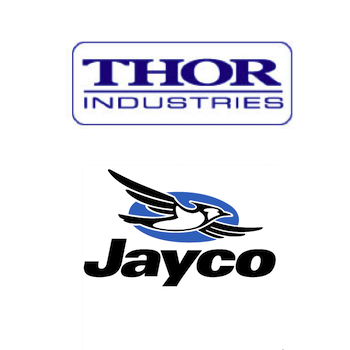 The largest U.S. manufacturer of RVs, Thor Industries, has acquired Middlebury, Ind.-based Jayco for approximately $576 million in cash in a deal announced by Thor Friday (July 1).
The acquisition of Jayco Inc., brings the total RV market share of Thor Industries to about 47.1 percent, based on pre-acquisition numbrs from Statistical Surveys.
While the deal makes Thor indisputably the largest company in the RV industry, it delivers product lines to the manufacturer – particularly from Jayco's Class A and C motorhome lines – that fill price points not previously held by Thor.
Still, the overlap between two companies is nothing new to Thor CEO Bob Martin, who acknowledges the brands within his company maintain strong competition.
"For me, the RV industry is a different industry," Martin said. "My brands within Thor right now already compete fiercely with each other."
The competitive nature is partially the result of the company's decentralized structure, which would allow Jayco – like many Thor acquisitions in the past – to operate as a distinct subsidiary, maintaining its current leadership for the foreseeable future.
The same decentralized corporate structure was true when Martin came to Thor in the 2001 acquisition of Keystone RVs. Allowing the companies to compete as distinct brands, avoids homogenizing the company's product lines, but Martin said it also drives growth in the industry.
"I think it (competition) really drives people to innovate product, and the key to our industry is developing products customers want to buy," Martin said in a phone interview following the announcement of the deal. "So for me, the competition has been the foundation of our company."
Jayco generated $70 million in income last year on $1.5 billion in revenue. Comparatively, Thor income reached $293 million in the 2015 fiscal year on $4 billion in revenue.
For Jayco, the Thor corporate structure allows the Bontrager family's leadership to keep a hands-on approach to the company's brand, which has cultivated its family-owned identity since Lloyd Bontrager began the company in 1968.
But as the company's ownership passes outside the Bontrager lineage for the first time, some dealers may be wondering whether the brand's image will take a hit in the market, but Jayco dealer Steve Richardson, of Richardson's RV Centers, isn't among them.
Richardson, whose multi-location California dealerships were Jayco's top-selling in 2015, thinks the deal will be beneficial to the Jayco name.
"As far as sales, I don't think that (the ownership change) will affect anything," Richardson said. "It's still the family, and Wilbur and Derald are still on board. I think they both still enjoy the business very much. Though, there is a time – gosh they've got a billion-dollar company – when you begin to take your cards off the table.
"Personally, I don't think – at least for a year or two – I'll see any major changes."
Of course, Jayco is far from the mom-and-pop operation it was when it began almost 5 decades ago. The company employs 3,200 people and produces 17 towable and motorized lines across 31 facilities, primarily in northern Indiana and Twin Falls, Idaho.
Jayco President and CEO Derald Bontrager said that the structure of the deal and Thor would allow his company to continue operations under the company's existing leadership.
"The core values that are synonymous with Jayco and its brands shape the way we run our business, and these values will remain and guide us as we look to the future," Jayco President and CEO Derald Bontrager said. "One of the things we found most attractive about Thor was their decentralized business structure, which allows their subsidiaries to continue operating independently.
Crestview RV President Mike Regan, whose Buda, Texas-based dealership's floorplan is mostly comprised of Jayco and Thor products, expects the deal to benifit both companies.
"My opinion is that things will go forward," he said. "It's a great move for the Bontrager family and I don't expect a lot of changes."
Regan added that Thor could also add some buying power to Jayco in working with its suppliers, lowering the cost of production for the company's units.
"Thor brings some buying power to Jayco. They may be able to buy some of their supplies at a lesser figure, maybe some back-end items in the accounting area will benefit Jayco, and as far as building new buildings, it may help to have Thor's resources, but I don't see anything changing day-to-day."
Purchase price of approximately $576 million in cash, is subject to post-closing adjustments. The purchase price was funded through existing cash balances as well as approximately $360 million in borrowings from an asset-based revolving line of credit arranged through the Company's lenders. The Company plans to repay the loan through internally generated cash flow and anticipates that it will be repaid within three years of closing.
"Our family is very proud of the legacy we have established and nurtured over the past 48 years," Jayco Chairman of the Board Wilbur Bontrager said. "As a family run and owned business, we view today's transaction as an opportunity to continue growing our business while joining an even larger family."
The Purchase Agreement was executed and effective on June 30.
Jayco generated income before tax of approximately $70 million on revenue of approximately $1.5 billion in calendar year 2015.
Since 2013, Thor or its subsidiaries have acquired Livin Lite, K-Z, Cruiser/DRV, Bison Coach, Postle Aluminum, and most recently, a 100,000 square-foot Middlebury, Ind., manufacturing plant from the defunct EverGreen RVs.