News
THOR Acquires Tiffin in $300 Million Deal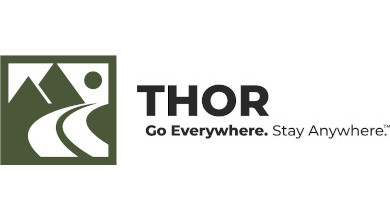 THOR Industries has announced the acquisition of Tiffin Motor Homes and related companies, including Vanleigh RV and other operating entities, for $300 million.
Tiffin Group LLC is now a wholly owned subsidiary of THOR and the group will continue to be managed by the Tiffin family and existing senior management team.
"The Tiffin brand is synonymous with quality and customer satisfaction in our industry. For many decades, Tiffin has set the standard for the luxury class A market. Its strong presence in the luxury Class A segment makes it very complimentary to THOR's current North American portfolio," said Bob Martin, president and CEO of THOR. "I have known of and respected Bob Tiffin and the Tiffin brand for many years. Bob and his family have built Tiffin into an industry leader, well-known for its Class A motorhomes, quality workmanship and outstanding customer service. I was therefore thrilled to be contacted by Bob when he wanted to talk about joining the THOR family of companies. From the start, it was a great conversation which established a natural fit for both companies and quickly led to this acquisition. The Tiffin Group operates in Alabama and Mississippi with more of a vertically integrated business model than is typical for our industry. The geographic separation from Elkhart offers numerous strategic opportunities including an expanded and talented workforce and a host of potential new suppliers."
Added Robert "Bob" Tiffin, CEO of Tiffin Motorhomes, "As a family-owned business since 1972, finding the right partner for the future of the Tiffin Group of companies was crucial. The future of this group of companies is critical not just to the Tiffin family but to our employees, our dealers and our incredibly loyal customers. We needed a partner who we could trust would sustain all of those elements and help us grow the business in a manner that is consistent with how we've done business at Tiffin for nearly 50 years. I have known of Bob Martin for many years and have always respected THOR's business model and how effectively they have added new businesses to their portfolio, while maintaining the independence and legacy of each new addition. THOR's strategy to empower its companies to compete with one another and to avoid a centralized operational strategy for its different companies was very important to us. The dealers and customers who love the Tiffin brand will continue to receive the high-quality products they have grown to expect. And I am not going anywhere as I will continue to operate the Tiffin companies as I have with no timeline for change. My sons, Van and Tim, as well as my grandson, Leigh, will also continue to have major roles in the Tiffin business. Instead of feeling like I sold a business, I feel like we have aligned with a great company that will enable us to take Tiffin to a new level while maintaining the Tiffin culture and brand integrity that has set us apart from our competitors for years."
THOR Industries has been consistent in making acquisitions that fit specific parameters. The company said it focuses on acquiring successful companies with strong management teams, top-quality operations, excellent products and a solid dealer network. "THOR operates using a decentralized business model, allowing its brands to compete aggressively with one another and to manage and run their own operations, while benefitting from THOR's financial strength and resources to drive future growth," the company added.
Transaction and Company Highlights:
Tiffin Motorhomes, operating in Alabama and Mississippi, manufactures both gas and diesel Class A motorhomes including the Allegro Breeze, Allegro Red 340, Allegro Red, Open Road Allegro, Phaeton, Allegro Bus and Zephyr models. The company also produces a premium Class C product line – The Wayfarer.
Vanleigh RV, operating in Mississippi, produces a line of fifthwheel towable products, including the Pinecrest, Vilano and Beacon models.
Additional companies within the acquired Tiffin Group include a window manufacturer (Alabama-based Wynne Enterprises, Inc.), a furniture manufacturer (Alabama-based Roma Enterprises, Inc.), a door manufacturer (Alabama-based Tiffin Door Co., Inc.), a fiberglass supplier (Mississippi-based Water-Way, Inc.), and an RV transport company (Alabama-based Drive-A-Way of Red Bay Inc.).
Tiffin Group will operate as standalone operating company within the THOR family of companies. The Tiffin family and the Tiffin Group's experienced management team will continue to manage their operations, just as it has for the past 49 years.
Of Tiffin's $800 million in RV sales in fiscal 2020, approximately 90 percent came from motorized unit sales and 10 percent was from towable unit sales.
"We are excited to be a part of the future of this great company and see many opportunities to drive growth of both its top and bottom lines. While well established in the luxury Class A space, Tiffin is relatively new to the towable and Class C markets. Tiffin currently has no offerings in either the travel trailer or Class B segments. Growing the great Tiffin brand name into these segments will be well-received by dealers and consumers alike. In Tiffin, we really acquired a company that was incredibly well-established but, at the same time, had very large opportunities for growth. It's a unique scenario that offers great upside to us. As we move into a new calendar year with strong momentum of industry growth and a growing and diverse end-consumer base, we are very confident in the future of THOR. It is with this confidence that we are excited to add Tiffin to our North American portfolio and look forward to realizing the benefits that such a well-established company will add to THOR for years to come," added Martin.