News
THOR Debuts Two Electric RV Concepts at the Florida RV SuperShow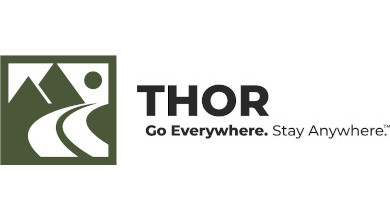 TAMPA – In an invitation-only presentation at the 2022 Florida RV SuperShow, THOR Industries unveiled its eMobility strategy around electrification of the RV industry.
At the show, THOR displayed two electric RV concepts: a motorhome and a travel trailer. Presented by THOR's leadership team, the company said its electric units were specifically designed to create a radical improvement of the RV user experience in an electrified RV world.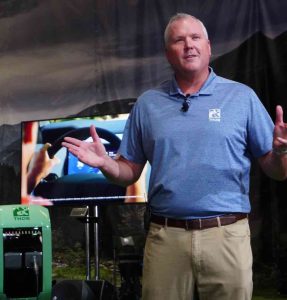 THOR President and CEO Bob Martin opened the event for a room full of reporters, analysts and investors with a big smile on his face.
"There is simply nothing like this in our industry today . . . at all. Nothing at all," Martin said.
Todd Woelfer, THOR's senior vice president and COO, gave an overview of how THOR got to where the company is today with this innovative technology – through the company's Innovative Technology Center.
Literally, starting with that blank piece of paper, the company designed these products from the ground up, according to Woelfer.
"This innovation will reshape the industry. This innovation will reshape THOR," he said.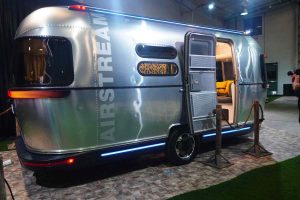 The Airstream 22-foot travel trailer concept, named eStream, is built on THOR's exclusive high-voltage electric chassis. Powered by a propriety system, THOR said the trailer dramatically reduces loss of range for electric tow vehicles and improves gas mileage for traditional tow vehicles.
Meanwhile, the Class B motorhome concept, dubbed the Thor Vision Vehicle (TVV), is built on an electric chassis co-developed with Roush. The TVV motorhome includes a number of unique elements designed to maximize chassis performance. Range extending technologies, including integrated fuel cell components, enable a range of up to 300 miles – well within the average non-stop travel distance of most RV users.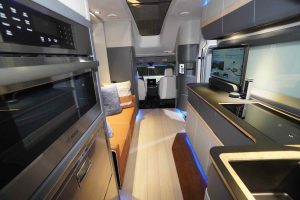 Both the Vision motorhome and the Airstream eStream travel trailer can stay off-grid for a week or more never needing an electrical hook up or a generator, according to company representatives.
The Vision motorhome has 27 new innovations in the aerodynamic design and function of the product. Built on the Ford Transit 3500 and enhanced fuel cell integration give the coach a 300-mile range, while others are introducing units on standard platforms that will get 150 miles before needing a charge again.
The sleek exterior features rounded coroners all around, new front and rear end enhancements, an enclosed 16-foot awning and a custom designed storage system at the rear of the coach that will literally "hang" anything on it. And users can place an electric bike or a kayak inside the coach.
Meanwhile, the eStream has two drive motors over the wheels and a sensor at the front that aligns the trailer with the tow vehicle, and it simply follows the car, SUV or truck. In fact, users don't need a weight distribution hitch with this product, and they can tow it with any vehicle they may have.
In line with THOR's sustainability goals, many things on the inside of this trailer are manufactured with recycled materials, such as the countertop, floor and the sofa.