RV News
THOR Industries Reports Record Q1 Net Earnings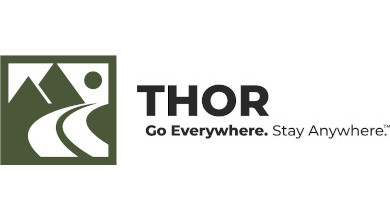 The world's largest RV manufacturer, THOR Industries, has reported first quarter net earnings of $3.96 billion, an all-time record for the company.
That was an increase of 56 percent in net income compared to a year ago.
This year's first quarter net sales include $2.2 billion for the North American Towable RV segment, compared to $1.4 billion in the first quarter of fiscal 2021; $925.0 million for the North American Motorized RV segment, compared to $493.9 million in the first quarter of fiscal 2021, and $633.0 million for the European RV segment, compared to $602.5 million in the first quarter of fiscal 2021.
"The increase in consolidated net sales is primarily due to the continuing demand for RVs and our recent acquisitions," the company said in its earnings report.
"The addition of the Tiffin Group, acquired in December of 2020, accounted for $228.3 million of the increase in net sales for the first quarter of fiscal 2022, while the addition of Airxcel, acquired in September of 2021, accounted for $88.8 million of the increase in net sales for the first quarter of fiscal 2022, net of intercompany sales."
President and CEO Bob Martin touted his company's performance despite the challenges that everyone industry-wide is facing.
"Building on our record-setting fiscal 2021, THOR delivered yet another quarter of strong financial results to begin our 2022 fiscal year. It seems the market focuses on the supply chain and labor challenges that our industry is facing right now more than it does our performance in the face of those challenges, but our performance has been consistent despite those challenges," Martin said. "Through outstanding operational execution, our teams continue to successfully navigate through these challenges at record levels. In the quarter, we delivered over 88,100 units, outpacing the RV industry's growth rate of shipments. Our first quarter performance, which marks a third consecutive quarter of record net sales and diluted earnings per share, is a testament to the experience, flexibility and agility of our operating teams and their drive to meet the needs of our customers in a difficult and dynamic business environment.
"Independent dealer sentiment remains positive and consumer demand for our RV products remains strong. In the first quarter, our global order backlog increased to more than $18 billion, reaffirming our view that the dealer restocking process will still take a number of quarters to complete and could possibly extend into calendar 2023," he said.
"The strategic course we have set gives us many reasons to remain confident and optimistic about our future performance as well. Our acquisition of Airxcel in the first quarter is a manifestation of our bullish outlook for our industry and for THOR in particular," Martin added. "This acquisition is a key piece to our strategic positioning of the Company as we seek to strengthen our supply chain. The Airxcel integration has gone exceedingly well, and we continue to see a great opportunity for growth through innovation, additional product offerings and the aftermarket business."
Looking ahead, Martin sees only good things despite certain negative trends he expects to continue.
"Our first quarter financial and operational performance was a phenomenal start to our fiscal 2022 year," Martin said. "As we look ahead, we expect continued supply chain constraints, logistical challenges and cost pressures. However, as we have consistently demonstrated, we also expect to continue to excel at our top and bottom lines. We remain steadfastly focused on the execution of our strategic plan while we continue our realization of operational excellence as we strive to meet the strong consumer demand for our products. Through continued strategic operational execution, the integration of our recent acquisitions, our positive outlook for the RV industry and with record backlog levels providing visibility beyond this fiscal year, we are confident that fiscal year 2022 will be another year of meaningful growth for THOR.
"Additionally, RVIA has recently increased its wholesale shipment forecast for calendar year 2021 to more than 602,000 units, and to over 613,000 for calendar year 2022, a projected increase of approximately 2 percent for next year. We agree with this outlook and expect THOR to continue to outperform the market and to grow at a higher rate than RVIA projects for the industry as whole," he said.