News
THOR Reports Profit for Q3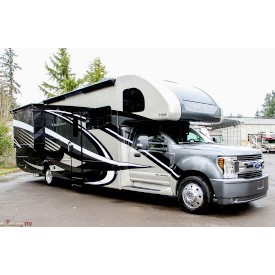 Despite facing what president and CEO Bob Martin called "unexpected and difficult" hurdles during the recent quarter, Elkhart, Ind.-based THOR Industries still posted a net profit for the third quarter of fiscal 2020 and is upbeat about the future.
The company reports that it had net sales of $1.7 billion during the quarter, compared with $2.5 billion during the same period a year ago. The third-quarter 2020 net sales figure includes $615.3 million in sales from the European RV segment, $773.4 million from the North American towable RV segment and $264 million in the North American motorized RV segment.
During the quarter it had net income of $24.1 million which, although down from the $32.7 million during the year-ago quarter, still equated to 43 cents in diluted earnings per share.
Overall, the gross profit margin for the quarter was 12 percent, the company says, which was higher than the same period a year ago.
"Despite this being one of the most unusual quarters I have ever experienced, I am pleased to report that we were profitable and generated positive net cash from operations," said Martin. "Our financial position has remained strong as a result of numerous management-led actions that were executed quickly in conjunction with our temporary plant shut-downs in mid-March. Our results are the product of both the highly variable cost structure we have created and our ability to quickly align our production and cost structure to meet fast-changing market conditions. I would like to thank the team members at THOR Industries and all of our subsidiaries for their incredible dedication and commitment to THOR and for their contributions to our results during this highly uncertain period."
COVID-19 and the related governmental mandates implemented to slow its spread in North America and Europe had a significant negative impact on the company's results of operations for the third quarter of fiscal 2020. Consolidated net sales, gross profit, North American and European wholesale shipments and retail sales were all negatively affected during the quarter.
The company also noted the impact of the stay-at-home rules enacted in most of North America and Europe that last nearly half the quarter.
"The operations of the company's independent dealers were likewise disrupted as many of them were required to close their showrooms. Due to these dealer closures, sales and shipments of our products were disrupted in the second half of March and April, two of our normally strongest sales and shipment months. Sales and backlog for May, the first month of our fourth fiscal quarter, improved on a weekly basis as dealers began to reopen their dealerships and consumer demand increased.
"During the quarter, the company initiated numerous actions to actively manage both our costs and liquidity in response to the initial extreme uncertainty created by the pandemic. In mid-March, the company temporarily suspended production at all of its North American RV production facilities and temporarily suspended a substantial portion of its European RV production. Beginning in March and throughout the remainder of the third quarter, the company furloughed or laid off a number of valuable team members, primarily in our U.S.-based operations, and many employees across the company saw a reduction in their cash compensation. In addition, the company also significantly reduced its discretionary spending and curtailed spending on most capital projects. Due to the high degree of uncertainty that existed initially related to the impact or duration of the various governmental shutdowns, and out of an abundance of caution, the company drew $250 million against its asset-based line of credit in late March to enhance its liquidity position. In late May, the company repaid this borrowing."
Martin added, "To be certain, the events of this quarter were unexpected and difficult, but our experienced team members and our highly variable cost model once again proved our ability to quickly navigate through uncertainty and generate positive financial results.
"Today, market indicators in North America are increasingly positive. Every North American dealer I have spoken to in the last few weeks has been very excited about the pace at which sales are picking up. Many of our dealers are reporting a significant improvement in sales from April to May and are excited about the sales potential for June and beyond. Because of this improved outlook and the relaxation of many stay-at-home restrictions, we began to restart production in the first week of May in North America. We have been successful in safely bringing our people back to work, and we are ramping-up production in a measured way in order to keep our team members safe and product quality high, while also fulfilling dealer orders as quickly as possible.
"In Europe, with over 1,200 dealer-partners in Germany and across the continent, our brands have one of the strongest dealer and service networks, and our long-term outlook for future growth in retail sales remains positive."
Martin also noted that in both the U.S. and Europe, his company is seeing "an influx in first-time buyers, which bodes well for the long-term health of the RV industry."