RV News
THOR Reports Record Q4 and Fiscal 2022 Earnings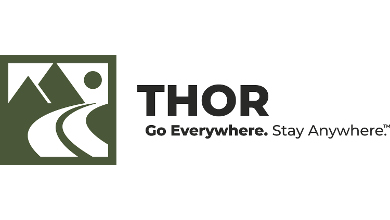 THOR Industries, the world's largest RV manufacturer, reported a record $16.3 billion in net sales in fiscal 2022, which ended July 31.
For the most recent quarter, THOR had net sales of $3.82 billion, a 6.4% increase over the same period a year ago. Net income in the quarter was $280.9 million, compared with $230.3 million a year ago.
The addition of Airxcel, acquired in September 2021, accounted for $129.6 million of the increase in net sales for the fourth quarter of fiscal 2022, the company said.
"Our fourth quarter results capped off a record-breaking fiscal year for THOR Industries," said president and CEO Bob Martin. "Our financial results were supported by outstanding performance across our portfolio of leading brands. For fiscal 2022, net sales eclipsed the $16 billion mark and net income attributable to THOR exceeded $1 billion for the first time in the Company's history.
"Responding to record post-pandemic demand that accelerated a secular shift in our market since the middle of 2020, our teams did a remarkable job of navigating labor and supply chain constraints to deliver record unit shipments in fiscal 2022 in order to meet strong end demand and restock dealer inventory. At July 31, 2022, North American independent dealer inventory levels of most towable products were fully restocked while independent dealer inventories of motorized and European products remained below optimal levels.
"During the fiscal fourth quarter, and consistent with our previously announced expectations, we experienced a softening in towable order activity due to successful dealer restocking of towable units combined with lower consumer confidence and macroeconomic uncertainty, which adversely impacted end consumer demand. In response to these conditions, our teams proactively reduced production levels of towable products to keep dealer inventory levels balanced and we remain disciplined in aligning wholesale production with retail demand. Despite the near-term macroeconomic uncertainty, our variable cost structure and the experienced leadership across our enterprise enabled us to successfully manage through the changing market conditions, and our fourth quarter results demonstrate that success."
For the entire fiscal year ended July 31, net sales were $3.82 billion in the fourth quarter of fiscal 2022, compared to $3.59 billion in the fourth quarter of fiscal 2021. The increase in consolidated net sales was largely impacted by the increase in the average sales price of its units, partially offset by a decrease in units sold.
In terms of segments, in the fourth quarter THOR reported North American sales of towables were $1.8 billion, compared with $1.7 billion a year ago. Motorized sales in the quarter were $1.02 billion, compared with $823,000 million a year ago.
Fiscal year-over-year, sales of towables were $8.7 billion compared with $6.2 billion a year ago, a 39% increase, while motorized sales for the recent year were $3.96 billion, compared with $2.7 billion a year ago – a 49% increase.
"As we enter our fiscal 2023, there remains a level of uncertainty in respect to near-term economic growth and consumer demand," said Martin. "While we navigate this volatility, our experienced operating management teams and proven business model give us a distinct advantage in an ever-changing market. We remain confident in the resiliency of our business model based on our past performance over previous economic cycles, the strength and experience of our management teams, and our discipline to remain focused on what we can control. Within our North American towables segment, we are focused on assisting our independent dealers in maintaining appropriate inventory levels of THOR products. In advance of Dealer Open House, our operating teams proactively adjusted production to ensure wholesale shipments were appropriately aligned with retail sales in order to position dealers' inventories favorably as they enter the new model year. Within our North American motorized and European segments, dealer inventory levels remain near historically low levels, and the need to restock channel inventory will serve as a tailwind in fiscal 2023. We also remain committed to providing new and innovative products across the portfolio, and we are excited to hear the feedback from our dealer partners coming out of this year's Dealer Open House.
"While we successfully manage through the short-term economic uncertainties, we continue to manage the business for the long term. We continue to pursue and build out our automation, innovation and aftermarket strategies in order to remove industry friction points and enhance the RV lifestyle and experience for the end consumer. Our continued focus on making the RV lifestyle attractive to consumers provides a foundation for the long-term growth trajectory of the RV industry. Our long-term focus, combined with our size and scale as the global pure-play leader in the RV industry, positions THOR to outperform the industry in fiscal 2023 and beyond."