News
THOR Reports Slight Uptick in Sales YOY in Q4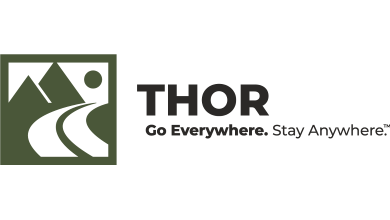 Elkhart, Ind.-based RV manufacturer THOR reported net sales in its fiscal fourth quarter of $2.32 billion, compared to $2.31 billion in the fourth quarter of fiscal 2019. This year's fourth quarter net sales figure includes $1.9 billion from the North American Towable RV segment, $366.5 million from the North American Motorized RV segment, and $739.9 million from the European RV segment.
Net sales for fiscal year 2020 were $8.2 billion compared to $7.9 billion for fiscal year 2019. The increase was primarily attributable to incremental European net sales that came through its acquisition of the Erwin Hymer Group in February 2019. The increase from those sales was largely offset by a decrease in North American net sales, due to the impact of the COVID-19 pandemic and the resulting six-to-eight-week production shutdowns that started in the company's fiscal third quarter during what it said is historically its most profitable and highest sales months.
"I am pleased to report that THOR's net sales increased significantly with each passing month in the fourth quarter of fiscal 2020 as we emerged from the COVID-19 induced production furlough that started in our third fiscal quarter. Our fourth quarter results prove that our employees and management teams around the world are experienced and agile, and that our highly variable business model facilitated a rebound from a virtual production standstill in May to full production by July," said Bob Martin, president and CEO of THOR Industries.
"We saw increasing retail demand over the course of the quarter, driving dealer inventories to historically low levels by year end and our year-end backlog to a record high (of $5.74 billion). As I have noted before, the long-term outlook for our business remains excellent. Now, with the increasing interest in the RV lifestyle from a new group of consumers, the short-to-medium-term outlook is also robust. This current demand for RVs, coupled with the need to replenish dealer inventories that are at all-time lows, positions us for continued success well into calendar 2021. We also believe that the influx of new RV buyers will lead to many becoming long-term RV enthusiasts down the road. Historically, long-term RVers trade in and trade up for a new RV every 3 to 5 years, which further positions us for success well into the future," added Martin.
In terms of company segments, North American Towable RV net sales were $1.18 billion for the fourth quarter of fiscal 2020, largely unchanged compared to fourth-quarter net sales of $1.16 billion in the prior-year period. Net sales for North American Motorized RVs were $366.5 million for the fourth quarter of fiscal 2020, compared to $387.4 million in the prior-year period. The decrease in motorized net sales for the quarter was driven primarily by lower unit sales as well as a shift in product mix, including a higher volume of its modestly priced Class B motorhomes, which are generally priced lower than Class A and Class C motorhomes, the company said.
Reflecting on a year like no other, Martin said, "Fiscal 2020 was both a challenging and rewarding year for THOR. I am proud of our employees and our management teams around the world for continuing to prioritize employee safety above all else. Once again, our teams have demonstrated THOR's resilience and ability to manage through uncertainty. We have shown that when challenges arise, we come together to work collaboratively, we make decisions quickly with as much data as possible, and we adjust as conditions require. When we needed to ramp production back up based on increased demand for our products across the board, we did so quickly and effectively, while continuing to prioritize employee safety by maintaining compliance with our robust safety protocols. We supported one another and worked closely with our dealer and supply partners. We are proud to be providing end consumers with products that allow them to travel in the safety of a contained living space. I am also proud of the financial results we generated for our shareholders in spite of the many challenges we encountered."
He adds that heading into 2021, Martin said he feels very good about the position his company is in and feels optimistic for the short- and long-term outlook for the RV industry as a whole.