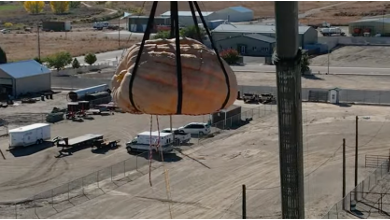 Given Wyoming is the least-populated state in the union, it's quite possible you were not in attendance for the recent Wyoming State Pumpkin Growing Championship, which featured the seasonal gourd – also a fruit, if you're keeping score – grown to ridiculously large sizes and then – why not? – dropped onto an RV that had seen its better days.
Kudos to Young's Camper Repair of Worland, Wyoming, for donating the '69 Winnebago coach and no doubt putting a smile on the faces of all those who came out to bear witness.
Click here to read the full report from Andrew Rossi at Cowboy State Daily.